Created: May 10, 2022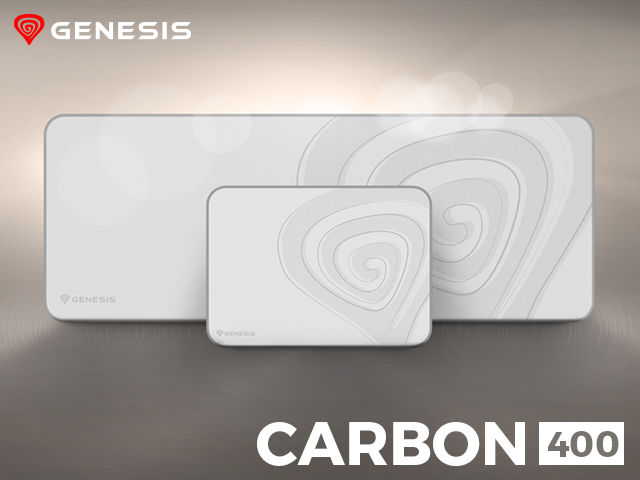 Carbon 400 XXL and Carbon 400 M are new white pads in the offer of Genesis brand, which thanks to their design will certainly fall to the taste of all people who are bored with the existing dark desk surfaces. Thanks to the special weave of fibers the pad provides fast gliding and mouse control.
Genesis Carbon 400 M is a gaming mouse pad with 350 x 250 mm surface and 3 mm thickness. The waterproof texture combines the features of speed and control surfaces. It provides a fairly fast response with short movements, but thanks to the special weave of fibers it also allows for increased control over the mouse response. The mousepad is compatible with all types of mice, and its rubber bottom anti-slip layer should increase stability on any surface. The edges of the pad are hemmed, so you can forget about fraying material.
The Genesis Carbon 400 XXL is a gaming pad for those requiring a much larger work surface. It features dimensions of 800 x 300 mm. Like the Carbon 400M model described above, it is distinguished by a waterproof top layer, compatibility with optical and laser mice, as well as an anti-slip rubber bottom surface.

Discover all the features of the Carbon 400 XXL and M:
- The surface combines the characteristics of a speed and control surface - it provides a fairly quick response
with short movements, but thanks to the special weave of the fibers, it also allows for increased control
on the mouse response
- Compatible with all types of mice
- Anti-slip rubber bottom layer improves stability on any surface
- Hemmed edges prevent fraying
- Waterproof top layer

Read more about our products: Carbon 400 M and Carbon 400 XXL