Created: Feb 1, 2019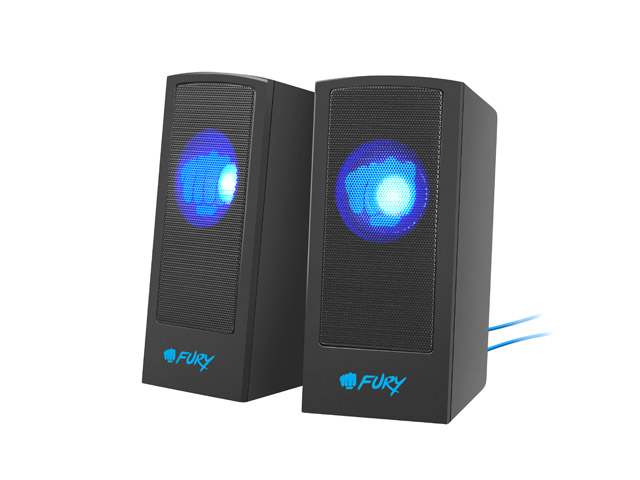 Dźwięk to nieodłączna część rozrywki komputerowej, od teledysków na YouTube, przez filmy na Netflix'ie, aż po efektowne ścieżki dźwiękowe i efekty specjalne w grach. Nowe głośniki Fury Skyray dostarczą dźwięk jednocześnie wzbogacając wygląd naszego biurka.
Dwa stojące obok siebie głośniki Fury Skyray, z ich podświetleniem w kształcie dwóch kół mogą budzić skojarzenie z dwoma silnikami odrzutowca. To może być przypadek, ale nazwa nowych głośników marki Fury nawiązuje do myśliwca pokładowego Douglas F4D Skyray, który był konstrukcją dwusilnikową właśnie. Był też pierwszym samolotem operującym z lotniskowców, który przekroczył prędkość dźwięku. Całkiem interesujący "patron" dla głośników.
Podświetlenie nie jest jedyną zaletą Fury Skyray. Głośniki te wykorzystują 2-calowe przetworniki, mające pozwolić na osiągnięcie lepszego dźwięku niż np. w większości rozwiązań wbudowanych w monitory lub laptopy. Czerpią zasilanie z portu USB, więc nadają się jako uzupełnienie komputera przenośnego. Ich moc łączna RMS wynosi 5W. Głośniki wyposażono także w system otworów bass reflex, co ma skutkować bardziej wyraźnymi tonami niskimi.
Wspomniane już niebieskie podświetlenie można wyłączyć, ale nie jest ono jedynym elementem w barwach producenta. Logo Fury znajduje się tuż nad dolną krawędzią obu głośników, a okablowanie jakie znajdziemy w zestawie także wykończono w niebieskiej kolorystyce. Większość obudowy wykonano z czarnego tworzywa ABS.