Created: Jan 14, 2019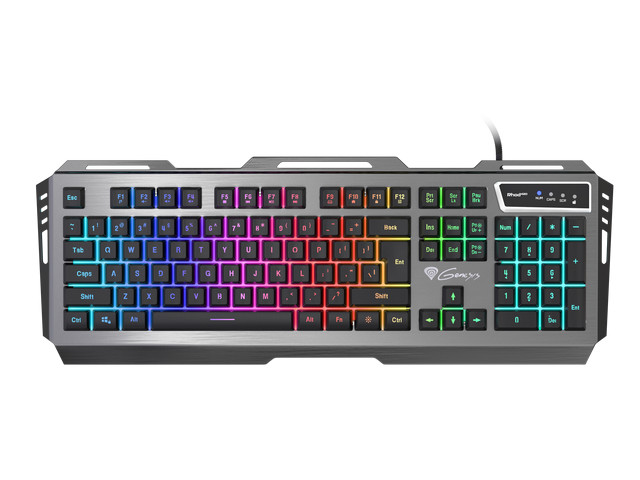 Genesis: pancerna klawiatura dla graczy
Klawiatury gamingowe często muszą znieść niemałe obciążenie. Rozgrywki bywają emocjonujące, więc klawiatura, która zniesie nawet nieco mniej delikatne traktowanie może okazać się dobrą inwestycją.
Genesis Rhod 420 RGB to nowy model klawiatury dla graczy, przypominający Rhod 400. Najważniejsza różnica: Rhod 420 ma więcej punktów pancerza, lub, całkiem już poważnie - może pochwalić się aluminiową obudową. Tak skonstruowana klawiatura ma znieść więcej, wytrzymać przypadkowe uderzenia czy zgniecenia. Poza tym, przyznajmy - aluminium wygląda elegancko. Bardziej odporne mają być także nadruki na klawiszach, dzięki zastosowaniu metody "Double Injection".
Klawiatury gamingowe muszą radzić sobie lepiej niż "cywilne" modele z sytuacjami w których jednocześnie przyciśniętych zostanie kilka klawiszy. Dlatego aż 19-przyciskowy anti-ghosting w Genesis Rhod 420 RGB to duża zaleta. Podobnie jak sama budowa klawiszy oferująca cichą pracę, którą z pewnością docenią pozostali domownicy. Na wygodę użytkowania wpływa także możliwość regulacji nachylenia klawiatury, a przyciski o średnio-wysokim skoku mają pasować do preferencji większości graczy. W Rhod 420 można także wyłączyć przycisk Windows, który zdecydowanie nie jest ulubieńcem graczy.
Istotnym elementem sprzętu gamingowego jest stylistyka. W tej dziedzinie Genesis Rhod 420 RGB niewątpliwie nie ma się czego wstydzić. Efektowne, wielobarwne podświetlenie, zbudowane w oparciu o 6 stref i wykorzystujące 9 trybów pracy podkreśla gamingowy charakter klawiatury.
Specyfikacja:
• Typ: membranowa
• Komunikacja: przewodowa
• Długość: 469 mm
• Szerokość 170 mm
• Wysokość 37 mm
• Długość kabla: 160 cm
• Liczba klawiszy: 104
• Liczba klawiszy multimedialnych 12
• Podświetlenie: RGB z 9 trybami