Created: Mar 10, 2021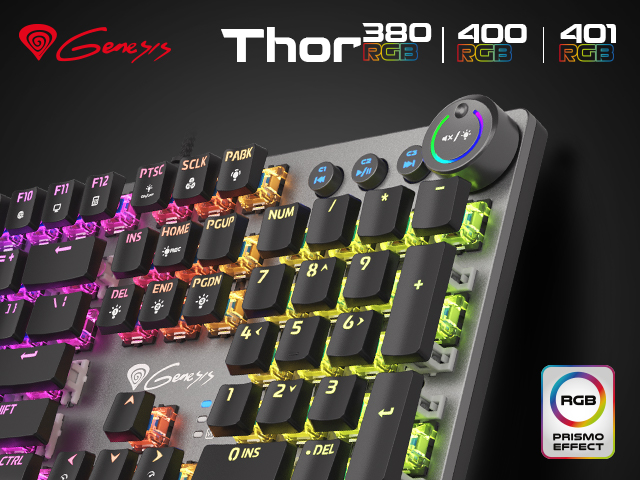 New products in the Genesis portfolio include innovative mechanical keyboards with a quick response time. Thor 380 RGB, Thor 400 RGB and Thor 401 RGB are products with impressive design, solid aluminium construction and phenomenal RGB backlight that will delight all players.
All keyboards have the N- Key Rollover function , i.e. full Anti - Ghosting, thanks to which no matter how many keys you press, each of them will be perfectly read. The keyboards are also equipped with 12 multimedia keys and an advanced functional dial which allows you to adjust the brightness of the backlight and the volume level. In addition, dedicated software allows you to configure profiles and macros, built-in memory remembers all of the settings even when you connect your device to another computer.
The keyboards differ based on the type of switches used. Thor 380 RGB is equipped with blue mechanical switches, Thor 400 RGB has top Kailh RED switches , and Thor 401 RGB has been equipped with excellent Kailh Brown switches .
Discover all the features of the new keyboards:
- Aluminium housing and modern design,
- RGB backlight with PRISMO effect and 13 modes to choose from,
- N-Key Rollover,
- multimedia keyboards and an illuminated function dial
- Windows key lock,
- folding feet,
- rubber non-slip feet,
- "Double Shot" printed caps
- detachable palm rest,
- gaming software and built-in memory.
Do not hesitate and show your customers our amazing Genesis keyboards today!