Created: Nov 16, 2018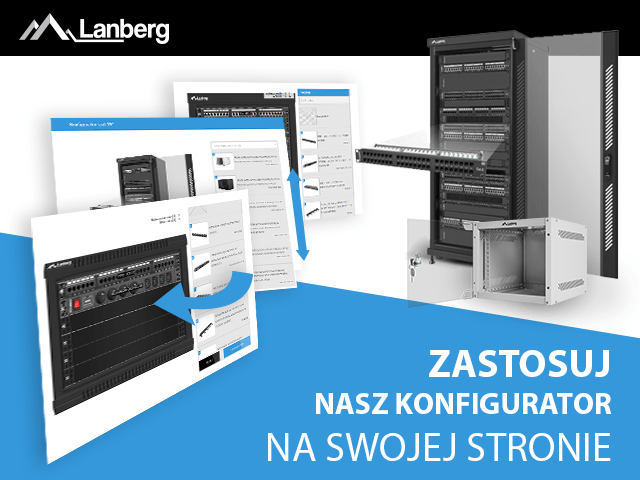 Stworzenie projektu szafy serwerowej z pełnym wyposażeniem to czasochłonny i żmudny proces? Nie z Lanberg!

Teraz nie tylko możesz korzystać z nowego konfiguratora na stronie internetowej Lanberg, ale także możesz go w prosty sposób wdrożyć na własnej stronie internetowej. Dzięki temu podkreślisz profesjonalny wizerunek swojej firmy, a swoim klientom zaoferujesz możliwość wybrania produktów ze swojej oferty, które najlepiej spełnią ich oczekiwania.

Jak działa konfigurator?

Konfigurator działa na zasadzie intuicyjnego programu do projektowania szaf serwerowych. Umożliwia on szybkie filtrowanie produktów, staranne rozplanowanie komponentów w szafie, dostosowanie rozmieszczenia produktów do własnych potrzeb oraz finalnie przedstawia wizualizację gotowej szafy. To nie koniec! Konfigurator stworzono tak, aby dodatkowo sprawdzał czy wybrane produkty pasują do danej szafy np. pod względem rozmiaru oraz sam dobierał najlepsze zamienniki.

Konfigurator szaf to wygodne narzędzie ułatwiające codzienną pracę i przyspieszające proces projektowania infrastruktury sieciowej. Lanberg stawia na rozwój i innowacje, dlatego też konfigurator jest stale rozwijany i dostosowywany do potrzeb użytkowników.

Skąd wziąć kod do konfiguratora?

Jeżeli interesuje Cię wdrożenie konfiguratora na swojej stronie internetowej skontaktuj się z zespołem specjalistów marki Lanberg via e-mail: support@lanberg.pl. Wystarczy, że wyrazisz chęć umieszczenia konfiguratora na swojej stronie. Po pozytywnej weryfikacji Twojego zgłoszenia otrzymasz odpowiedni kod. Narzędzie jest stale aktualizowane zarówno pod względem listy produktów, jak i ich zdjęć oraz opisów. Dodatkowo istnieje możliwość ustalenia indywidualnego filtru producentów, których produkty mają pokazywać się w konfiguratorze na Twojej stronie internetowej. Jeśli nie prowadzisz sprzedaży danej marki, nie musi ona widnieć w konfiguratorze.

A TERAZ NAJLEPSZE – ZA KONFIGURATOR SZAF LANBERG NIE ZAPŁACISZ ANI ZŁOTÓWKI!

Już dziś napisz na support@lanberg.pl i otrzymaj darmowy kod do konfiguratora szaf.

Kliknij TUTAJ i sprawdź jak działa konfigurator Lanberg.