Created: Dec 6, 2021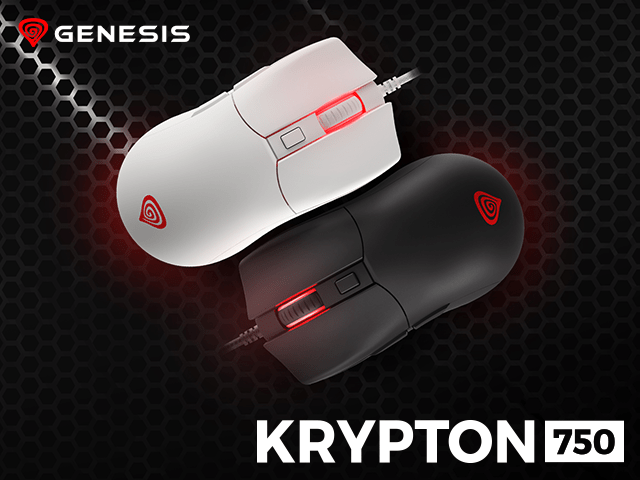 Krypton 750 is another gaming mouse in Genesis' portfolio. Its advanced PAW3333 optical sensor will deliver incredible precision during gameplay, and the impressive RGB lighting with PRISMO effect will let you to illuminate the stand in any color of your choice.
Under the removable panel there is a tray with weights that will allow you to perfectly adjust the weight of the mouse to your individual needs between the range of 58 – 76 g. To guarantee maximum comfort, the mouse is equipped with two interchangeable panels – one perforated and the other solid non-perforated, giving even more scope to adjust it to your preferences. What's more, the ability to open the interior allows you to easily clean the mouse.
Discover all the benefits of Krypton 750:
- Precise optical sensor PAW3333 with a resolution of up to 8000 DPI,
- gaming software with macro recording,
- mechanical button switches with a lifespan of up to 50 million clicks,
- RGB lighting with PRISMO effect,
- low weight with adjustable range of 58 - 76 g,
- 6 programmable buttons,
- DPI indicator,
- built-in memory,
- 2 replaceable top panels,
- high quality PTFE sliders,
- Paracord type cable,
- ergonomic shape,
- two color versions.
More about: Krypton 750