Created: Nov 26, 2021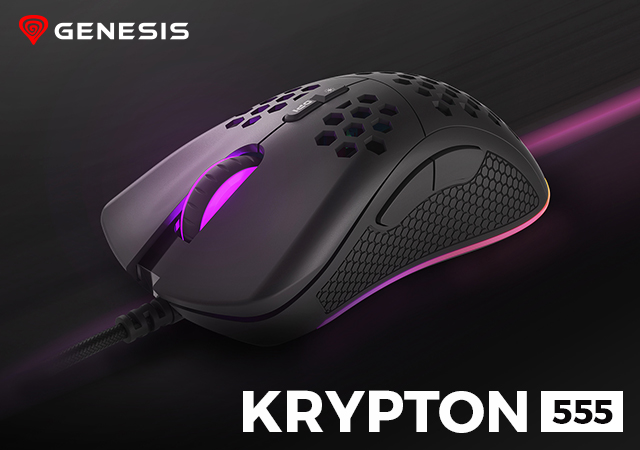 The Genesis brand has recently expanded its product portfolio with an ultra-lightweight gaming mouse. Krypton 555 is a programmable gaming mouse equipped with the innovative Pixart PAW3333 optical sensor and extremely durable mechanical switches with a lifespan of up to 60 million clicks. The mouse has an ergonomic shape that protects the wrists against strain and RGB lighting that allows the player to personalize their gaming stand.
The heart of Krypton 555 is the top optical sensor Pixart PMW3333, whose capabilities will satisfy even the most demanding players. A maximum cursor tracking speed of 300 IPS and a maximum acceleration of 35G will ensure incredible performance and instant response in every game. In addition, the 6-setting DPI button will allow gamers to instantly adjust the cursor speed to the their preferences in the range from 200 to 8000 DPI.
Explore the full potential of the Krypton 555:
- Kailh GM 8.0 mechanical switches with a lifespan of 60 million clicks,
- RGB lighting with PRISMO effect,
- ultra light – 70 g,
- 7 programmable buttons,
- software with macro recording function,
- innovative Pixart PMW3333 sensor,
- 6 DPI settings,
- built-in memory,
- Paracord cable,
- ergonomic shape.
More about the product: Krypton 555