Created: Sep 21, 2020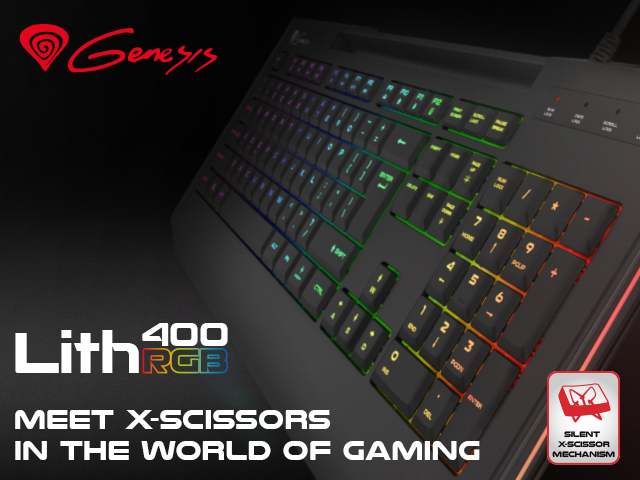 The Genesis brand launches a modern gaming keyboard with a unique design for gamers. Lith 400 is an ultra-fast, super-quiet, super-quiet keyboard for demanding gamers packed in an amazing design.
Genesis Lith 400 impresses not only with its amazing design with 6-zone RGB backlighting, but also adored by many low-profile X-SCISSORS switches known for example from laptops. The keyboard guarantees incredible comfort of use and very quiet operation, which is expected by advanced gamers.
At the top of the keyboard there is a rubber holder for a phone or tablet, which can hold the device in a standing position, so you always have it in view. On the back of the keyboard you will find a USB port and two jack sockets, which will allow you to efficiently connect not only additional peripherals or a flash drive, but also a headset with a microphone.

PRODUCT FEATURES:
- Low profile and silent keys made with X-Scissors technology
- RGB backlighting with PRISMO effect
- Windows key lock
- Non-slip rubber feet
- Multimedia keys
- Anti-Ghosting for 19 keys
- Wrist rest
- Arrow and WASD key replacement function
- HUB USB and audio
- Low profile
- Player software with macro recording function
Don't hesitate and fill your product portfolio today with a unique keyboard that embarrasses you with its broad functionality, bringing you as close as possible to the most important ports.
Sugested products: