Created: Dec 10, 2018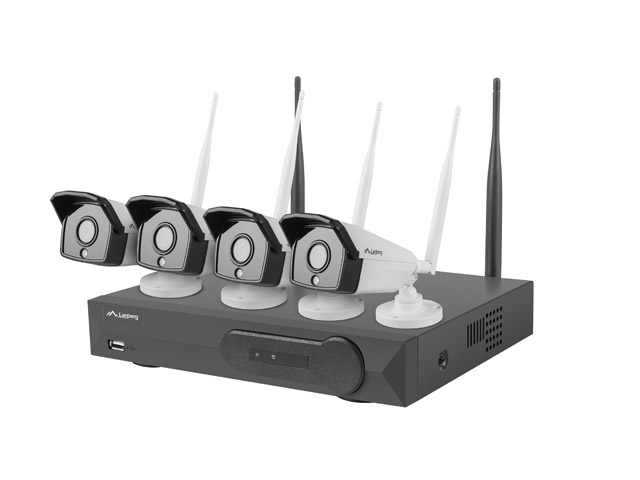 Wireless, effortless
Installation and configuration are incredibly simple. The whole set does not require laying bulky network cables, because the monitoring system is based on a wireless network. To install this complete surveillance system, just mount the IP cameras in the correct, chosen places and connect them to power. Next plug in the NVR to the power supply. The rest of device configuration takes place entirely wirelessly. Needless to say, remote use of the NVR requires a stable wired connection to the Internet.
NVR with an intuitive interface
Lanberg NVR recorder has a user-friendly interface, and at the same time boasts a wealth of possibilities. Available image, sound and data settings are just the tip of an iceberg. In addition, you can set a recording schedules or establish a calendar that covers days when we are not at home (e. g. when going on holidays or during a business trip). A constant access to your surveillance is provided via the above-mentioned application. Inside of recorder there is room (bay) for 1 HDD drive compatible with SATA interface.
Four or eight IP cameras included
Another key element of Lanberg surveillance sets are cameras. Depending on the chosen set, there are 4 or 8 included within the box. All of them boast an IP66 certificate. Therefore, each device is fit for outdoor operation, even during difficult weather conditions. On top of that, there is a night mode available, as the manufacturer equipped each IP camera with 6 IR LEDs. As a result of it, even in complete darkness they are able to record the image. Depending on the selected surveillance set, IP cameras can record images in resolutions ranging from HD 720p (1366 x 768) up to full-fledged Full HD 1080p (1920 x 1080).
HD or Full HD surveillance resolution
All 4 Lanberg Wi-Fi surveillance sets are available on the market and their price varies depending on the option selected. The manufacturer has thought of two surveillance sets sporting 4 cameras and
a 4-channel NVR setup. One of those available options, has cameras able to record footage in HD, while the other set is capable of delivering a Full HD 1080p image resolution. Similarly, this is the case also for the two other available sets with 8 IP cameras and an 8-channel NVR. Here, as well, the difference boils down to the resolution of the cameras.