Created: Jan 15, 2019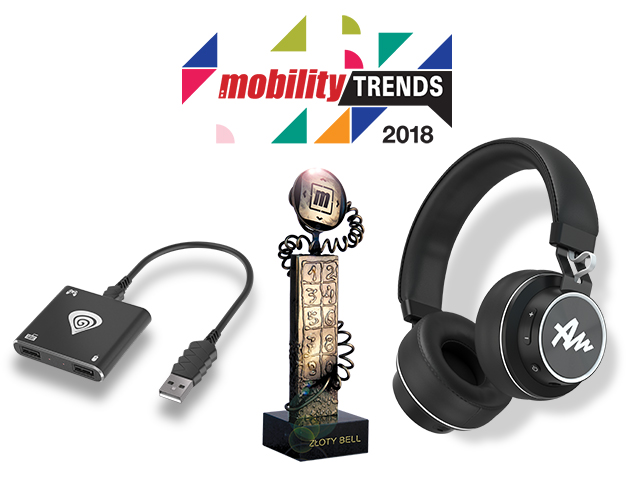 Z przyjemnością informujemy, że produkty marek dostępnych w naszej ofercie: Genesis oraz Audictus, zostały nominowane w tegorocznej edycji prestiżowego plebiscytu Mobility Trends 2018. Plebiscyt ma na celu wyróżnienie i promowanie najbardziej innowacyjnych i najlepiej ocenianych produktów z branży technologicznej.
Produkty z naszej oferty, które otrzymały nominacje to adapter Genesis Tin 200 oraz słuchawki Audictus Winner. Urządzenia zostały nominowane w kategoriach:
• Tin 200- gadżet roku i akcesorium roku,
• Winner- gadżet roku i Sportowy gadżet roku.
Obydwa produkty odpowiadają bieżącym potrzebom użytkowników i w ten sposób wpisują się w idee plebiscytu.
Produkt marki Genesis to adapter umożliwiający podłączenie myszy i klawiatury dowolnej konsoli co wydatnie zwiększa możliwości gracza. Fani gier konsolowych coraz częściej szukają urozmaicenia asortymentu a granie na myszy i klawiaturze podłączonej do konsoli zyskuje coraz większą popularność.
Słuchawki Audictus Winner to odpowiedź na coraz większe wymagania osób aktywnych w stosunku do sprzętu audio. Dzięki możliwości działania zarówno bezprzewodowo jak i przewodowo, bez utraty jakości dźwięku stają się one uniwersalnym urządzeniem, które zyskało szerokie grono zwolenników.
Plebiscyt Mobility Trends 2018 ma za zadanie podsumowanie wszystkich nowinek technicznych, które cieszyły się największym zainteresowaniem konsumentów w roku 2018. Gala stała się jednym z większych spotkań tego typu w Polsce oraz zyskała rangę prestiżowej, dlatego nominacja naszych produktów jest ogromnym wyróżnieniem i uznaniem.
Zachęcamy wszystkich do wzięcia udziału w głosowaniu:
http://ankieta.mobilitytrends.pl/
Nominowane produkty: