Created: Oct 5, 2021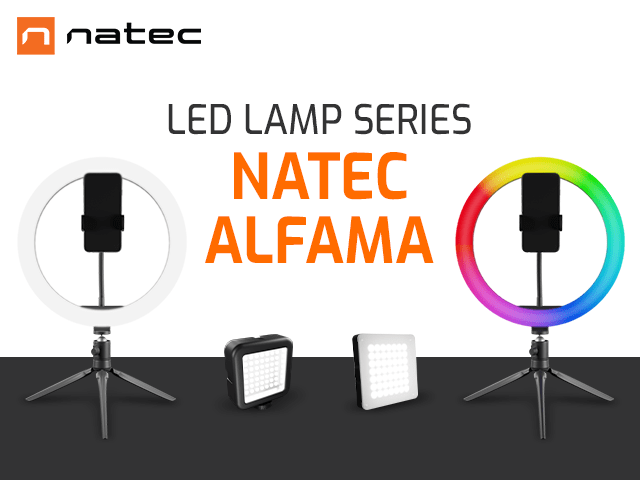 The Natec brand has launched a new series of products that will especially appeal to online creators and photography enthusiasts. Natec Alfama is a family of four LED lamps designed for users who want to create excellent lightning conditions for the presented products, as well as their face or silhouette.
Our new lamps will allow you to easily take perfect shots thanks to evenly distributed light tailored to your preferences. Each of the four lamps allows you to adjust the intensity of illumination. Alfama Led and Alfama Led Color have a standard mounting thread that will allow you to mount the lamp on a tripod or camera. Thanks to three selectable color temperatures, 10-inch Alfama Ring Light and Alfama RGB Ring Light will allow you to adjust the shade of lighting to a specific frame. In addition, Alfama RGB Ring Light has 26 RGB backlight modes that will diversify the scenery and give it an original character.
Modern LED lamps are extremely efficient, they do not heat up and consume a small amount of energy. Even distribution of LEDs and the ability to adjust the intensity of light will reduce the feeling of eye strain during use.
Get to know the most important features of the Alfama series lamps!
Alfama Ring Light and Alfama RGB Ring Light:
- 3 colour temperatures and 10 light intensity levels for each,
- folding tripod with rubberized feet,
- flexible phone holder,
- ball head with angle adjustment,
- two remote controls: wired to control the lamp, and wireless (Bluetooth) to take pictures from a distance of up to 10m.
- in the RGB version, there is an additional remote control to control LED backlighting and 26 RGB modes.
Alfama Led and Led Color:
- 49 LEDs,
- compact size and light weight,
- dedicated dial to change the level of light intensity (Alfama Led),
- touch panel to change the level of light intensity (Alfama Led Color),
- accurate colour reproduction at the level of over 90 Ra,
- standard 1/4" mounting thread.
- AlfamaLed: universal ISO mounts allowing to add other accessories,
- AlfamaLed Color: 4 colour overlays to change the colour of the light.
More about the products: Alfama Led, Alfama Led Color, Alfama Ring Light, Alfama RGB Ring Light