Created: Apr 14, 2021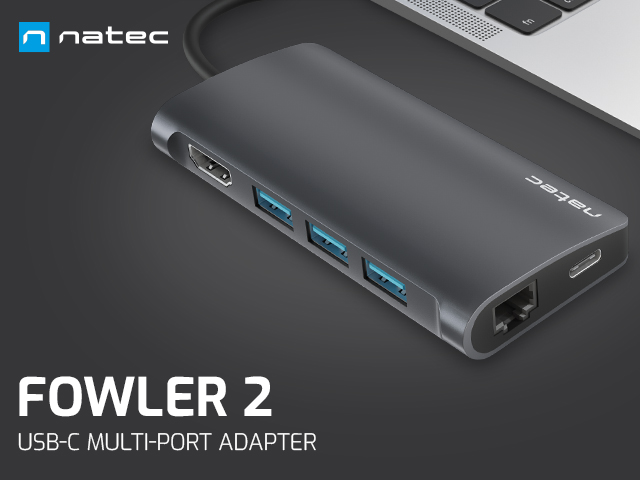 The Natec brand has introduced an advanced USB-C multiport dongle to its portfolio, combining the eight most important ports in one place. Fowler 2 will delight users of laptops and ultrabooks which these days come with less and less ports, making it difficult to connect all necessary accessories easily.
Fowler 2 is an adapter in aluminium housing, which in addition to necessary ports for accessories, will also provide access to the wired network thanks to Ethernet port. For smartphones supporting DEX technology, Huawei EMUI Desktop or PC Mode, when connected to a monitor or TV via multiport and HDMI cable, it will allow you to enjoy the functions of a standard computer. Thanks to this , the Fowler 2 will allow you to create the perfect workplace for remote work or home study.
Discover all the advantages of Natec Fowler 2:
- Eight expansion ports,
- Three USB 3.0 ports,
- HDMI port supporting 4K resolution,
- SD / micro SD card slots,
- RJ45 port ensuring stable access to wired Internet,
- Power Delivery port that allows you to use the adapter with simultaneous pass-through charging from a power source,
- Plug & Play ,
- Light aluminium construction.
Do not hesitate and offer your customers an advanced Natec Fowler 2 multiport today!