Created: Jul 8, 2022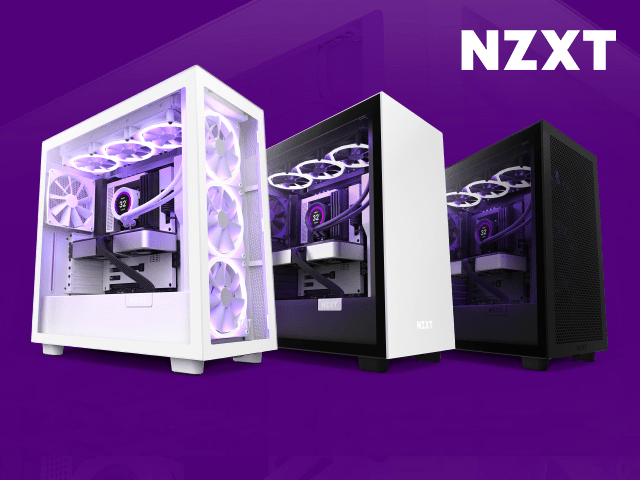 The NZXT brand has just expanded its product range with a brand new H7 series of enclosures. The NZXT H7, NZXT H7 FLOW and NZXT H7 ELITE models are designed for ambitious builders who appreciate not only great build quality, but also impeccable and subdued design.
With the NZXT H7, the user can count on even better thermal properties. The top panel of the case has been refined to provide excellent ventilation and faster evacuation of hot air from the interior. A big change is also the expanded grommets and additional hooks that will help manage cables and keep things tidy. Mounting a radiator of up to 360 mm will also prove to be trouble-free on this model. Expansion comfort is also guaranteed by tool-free access to the front and side panels.
The NZXT H7 FLOW, on the other hand, is an excellent choice for those who want even better ventilation. It combines the features of the H7 model, but the front panel was created to provide easy access to cool air. As with the NZXT H7 - here we can also find 2 ultra-quiet, included 120 mm F-series fans.
Excellent ventilation will also be provided by the NZXT H7 ELITE, and all this despite the front panel made of tempered glass. This model additionally features a built-in RGB and fan controller. Unlike the NZXT H7 and H7 Elite, up to 3 RGB 140mm F-series fans are included.
The NZXT H7 and NZXT H7 FLOW models are available in several color options (matte black, matte white, matte black and white).
The NZXT H7 FLOW model, on the other hand, is available in two color versions (black and white).
Learn more about the features of the NZXT H7, H7 FLOW and H7 ELITE enclosures:
Improved airflow
Perforated top panel for better cooling
Possibility to install a 360mm radiator without any problems
Tool-free access to front and side panels
Two silent 120 mm F-series fans (NZXT H7, H7 FLOW), 3 RGB 140 mm F-series fans (NZXT H7 Elite)
Functional top panel
Minimalist design

Translated with www.DeepL.com/Translator (free version)