Created: Jan 29, 2021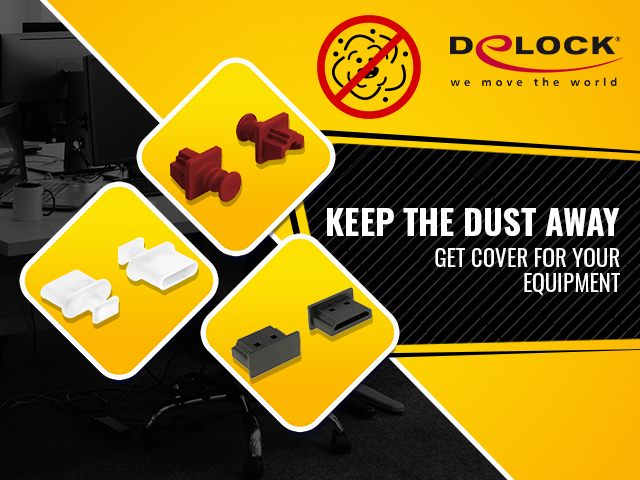 Regrettably, fighting dust is a never-ending battle. Even though we clean thoroughly, dust particles return eventually, settling on virtually all surfaces in our homes or offices. The electronic equipment likes to attract these small particles. Male / female connectors of electronic devices are particularly exposed to them. With the Delock, you can get rid of dusty connectors' problem by simply using the dust covers.
All types of dust covers in offer
It does not matter if you have an advanced switch with SFP transceivers / slots, a regular router, or an HDMI cable at home. The German manufacturer has you covered when it comes down to the vast majority of the most commonly used connectors.
Looking for a cover for a specific male / female connector? - use the helpful list of MPN's:
• DUST COVERS FOR RJ-45 | RJ-11 | SFP CONNECTORS:
64016 | 64019 | 64020 | 86507 | 86508 | 86509 | 86510 | 86511 | 86512 | 86589

• DUST COVERS FOR USB | LIGHTNING CONNECTORS:
64007 | 64008 | 64009 | 64010 | 64011 | 64012 | 64013 | 64014 | 64015 |
64008 | 64094 | 64095 | 64096 | 64097 | 64102 | 64033 | 64034 | 64035 |

• DUST COVERS FOR VIDEO CONNECTORS:
64027 | 64028 | 64029 | 64030 | 64031 | 64025 | 64026 | 60162 | 60160 | 60161 | 60173

• DUST COVERS FOR AUDIO CONNECTORS:
60165 | 60251
• OTHER DUST COVERS:
60168 | 60163 | 60164 |
You can find these and many other models on our website. If a given product is not displayed, it can be ordered from the manufacturer's website:
- Full range of DELOCK dust covers

Place an order with your sales associate or via our E-Trade system Click HERE to log in