Created: Dec 28, 2018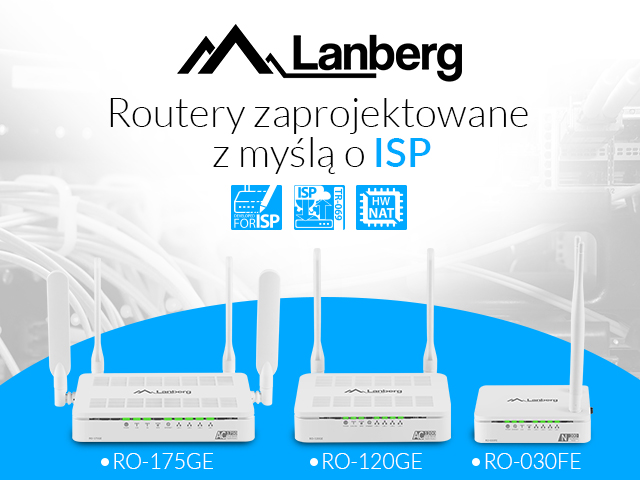 At the same time, the software was created in a way enabling its future development in terms of the needs and requirements of Internet service providers. The firmware is constantly being developed with the participation of Polish IT companies and ISPs.
One of the most important requirements of Internet service providers reflecting the market
and user's demands on the market, is the IPTV feature - currently implemented in Lanberg routers.
Each of the routers natively supports multicast streams. Moreover, the manufacturer went
a step further and made it possible to assign VLANs not only to individual LAN ports, but also to specific Wi-Fi network (including those created as virtual access points). Due to this solution, ISPs can easily create a special, separated wireless network, which will be secured with
a separate password and only through it, multicast streams will be sent. This type of solution allows you to connect a wireless set-top box, which through Wi-Fi will transmit signal on TV, which is often offered as TV plans / packages from Internet service providers.
The most important feature that distinguishes Lanberg routers among other brands, is the readiness of these devices for an update introducing an all-new extended, two-layered login panel. This solution is sought after by a large group of ISPs who are looking for more security. The manufacturer, meeting the expectations of the Internet service providers, as one of the few, will introduce the ability for ISPs to limit the end-user's access to selected content and features of the Lanberg device. Updated firmware will be introduced in the first half of 2019.
The two-layered login panel is enabling the administrator with a new level of control over Lanberg routers. With the software update ISPs will be able to assign appropriate user permissions to a specially prepared, easy and intuitive configuration page. For each webpage, subpage and modal page, in the form of a pull-down tree, you will be able to choose from the drop-down list, which of them can be edited, read-only, or which elements are to remain hidden.
The added router security will not allow to bypass restrictions or change settings, even when attempting to interfere with the user's GUI, e.g. by revealing a save settings button or by directly inputting the web pages / subpages) or modal pages addresses that have been marked as hidden for the end-user.
Lanberg brand is open to any suggestions of ISPs, thanks to which we can constantly provide up-to-date and custom-made solutions. Internet service providers are limited only by their imagination and technical capabilities of the chipset, mounted inside the routers.