Created: Jan 7, 2020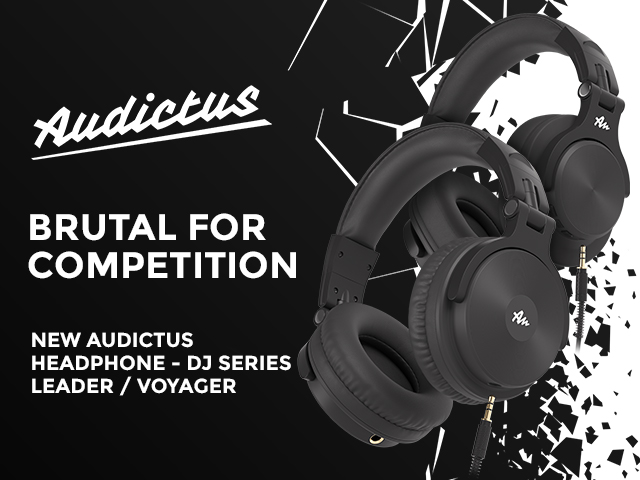 The beginning of 2020 is a completely new series of headphones from the Audictus brand. The Leader and Voyager models proudly represent the 'DJ series', satisfying their audience with great sound quality, deep, juicy bass and a foldable design. Both models also have comfortable, large ear pads and a soft, flexible headband, which guarantees high comfort of use even with many hours of series.
However, let's take a closer look at both models:
Audictus Voyager headphones are equipped with 50 mm dynamic drivers. Thanks to them and Clear Tone technology, users can count on perfect sound quality. First of all, it is captivating with a natural, strong and expressive bass. Voyagers are delivered with two cables. The first is with a spring that improves the comfort of use and ends with 3.5 mm and 6.3 mm jacks, while the second has two popular 3.5 mm mini-jacks. The latter has an additional integrated remote control. It allows you to control playback and volume to ensure you have full control over the music being played. In addition, you can have a high quality phone calls thanks to the built-in microphone.
Audictus Leader is a set of headphones equipped with Bluetooth 4.2 module with aptX-LL codec support. It allows the transmission of sound in high quality and without unnecessary delays. The headphones work in wireless mode for up to twenty hours. Then you can listen to music using one of the included cables. There are two in the box - one with 3.5 mm mini jack plugs, the other with 3.5 and 6.3 mm. The headphones have two AUX inputs (3.5 mm and 6.3 mm), so they can be connected to almost any sound source. Controlling the playback and volume of music is possible through the buttons located on one of the shells. Audictus Leader has a built-in microphone with noise reduction function, which allows users to make phone calls. If you decide to use a cable with a 3.5 mm jack, you will have an additional microphone at your disposal.
READ MORE:
- Audictus Voyager
- Audictus Leader