Created: Apr 22, 2020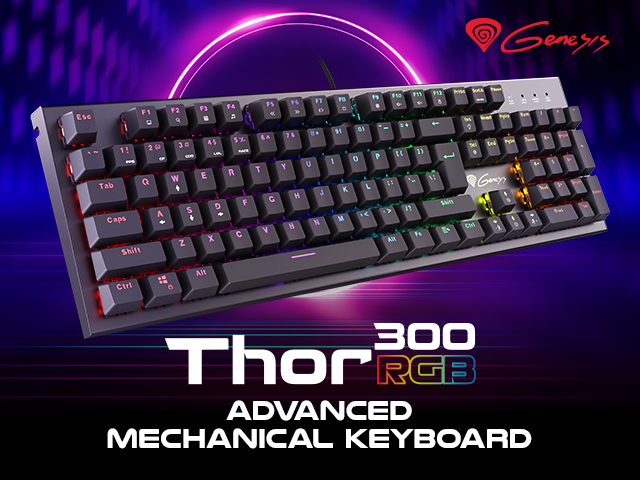 Appreciated by reviewers, the Thor 300 mechanical keyboard has been visually refreshed and technically improved. This is how the Thor 300 RGB model was created, which, in addition to the top specifications, also boasts a great design with RGB lighting.
The new Thor 300 RGB is a guarantee for your customers to have a proven high quality product. It is a keyboard well known on the market for its wide functionality and quality of workmanship, which is now even better.
A noticeable improvement that immediately catches the eye is the fabulous backlight, which now shines in 25 RGB modes including rainbow PRISMO.
The basis for the comfortable operation of the Thor 300 RGB are the high-quality Outemu Brown mechanical switches that provide instant response from pressed buttons. Only 55 grams of pressure needed to activate the button and 8ms response time guarantees the best gaming experience in demanding titles.
The keyboard satisfies the functionality adapted to demanding players, enjoying us with solutions such as cable organizer on the bottom of the keyboard, rubber, non-slip feet and N-Key Rollover. The keyboard has also multimedia keys and the option of locking the Windows key. We have added advanced software to this, creating a set that is lacking nothing to satisfy demanding players.
Don't let the opportunity to miss the sale of a new, improved version of one of the most popular keyboards on the market - Thor 300 RGB.