Created: Feb 15, 2022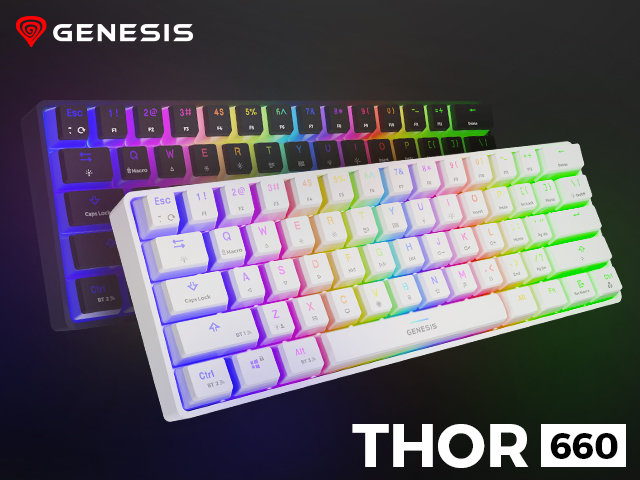 The Genesis brand has expanded its offer with an ultra-modern 60% mechanical keyboard shortened by a numeric block, arrow keys and a row of function keys. Thor 660 has the highest quality top-of-the-line Gateron Red switches, characterized by extremely fast response times and durability up to 50 million clicks.
Excellent parameters of the switches will ensure excellent performance during games, and the highest quality, factory lubricated stabilizers will additionally ensure the smooth movement of large keys. What's more, the keyboard has a dual connectivity mode, thanks to which it offers both the option of wired connection via USB-C cable and wireless Bluetooth.
The "Pudding PBT" keycaps further enhance the color depth of the PRISMO RGB backlight, so any stand will be awe-inspiring not only at night, but also when playing in daylight.
Discover all the advantages of Thor 660:
- Two color versions: black and white,
−compact size
− Gateron Red mechanical switches with lifetime 50 million presses
− RGB backlight with Prismo effect
− built-in rechargeable battery 3000 mAh
− 19 backlight modes
− gaming software with macro recording
− PBT pudding key caps with double injection technology
− built-in memory
− N-Key rollover
− premium quality pre-lubed stabilizers
− Bluetooth connection with low latency
− wired connection via USB-C cable
− multimedia function keys
− connect with 3 Bluetooth devices at the same time