Added since: 2018-10-26 Print
EARPHONES AUDICTUS ADRENALINE 2.0 SILVER BLUETOOTH WIRELESS WATER-RESISTANT APTX

Manufacturer:
Impakt code:
Z27555
Manufacturer code:
ABE-1266
EAN:

5901969412376

Warranty:
24 months
Unit measure:
PC.
Package:
20
Extended warranty:
Not available
Product description
Features
Download
Hi-Res

ADRENALINE 2.0

Trening oznacza dążenie do doskonałości, pokonywanie własnych ograniczeń i ciągłą naukę. Gdy dasz z siebie wszystko, pojawia się szybsze bicie serca oraz ciepło i przypływ energii. To adrenalina! Hormon wojowników, Twój sojusznik na każdym treningu!


WIĘCEJ ENERGII I WIĘCEJ FRAJDY!

Słuchawki Adrenaline 2.0 Powstały po to, aby trening był jeszcze bardziej efektywny i aby dać Ci więcej energii i mocy podczas codziennych zmagań. Ulubione utwory, w doskonałej jakości, działają jak naturalny doping i niosą Cię do kolejnego zwycięstwa. Wyposażyliśmy Twoje słuchawki w technologie oraz funkcje, które pomogą Ci czerpać więcej frajdy z każdej aktywności!
JAKOŚĆ DŹWIĘKU Z APTX I BT 4.1

Dobre brzmienie Crystal Tone, to podstawa, na której opieramy swoje produkty. Adrenaline 2.0 gwarantuje jakość porównywalną z odtwarzaniem płyty CD w domowym zaciszu, dzięki zastosowaniu technologii APTX, wspomaganej przez efektywny system łączności Bluetooth 4.1 + EDR. Otrzymujesz świetną jakość dźwięku i swobodę ruchów, jakie daje lekka, bezprzewodowa konstrukcja.
SWOBODA NA KAŻDYM TRENINGU!

Niska waga i świetny dźwięk wsparty technologiami, to nie wszystko. Słuchawki są zbudowane tak, aby jak najlepiej trzymały się w uszach a wykorzystanie haczyków, dodatkowo stabilizuje je w Twoich uszach. Kabel łączący słuchawki okazał się trochę za długi? Nic nie szkodzi – skróć go do pożądanej długości. Gdy słuchawki nie znajduję się w Twoich uszach, może je ze sobą spiąć i zawiesić na szyi, ponieważ w kopułkach znajduję się mocne magnesy.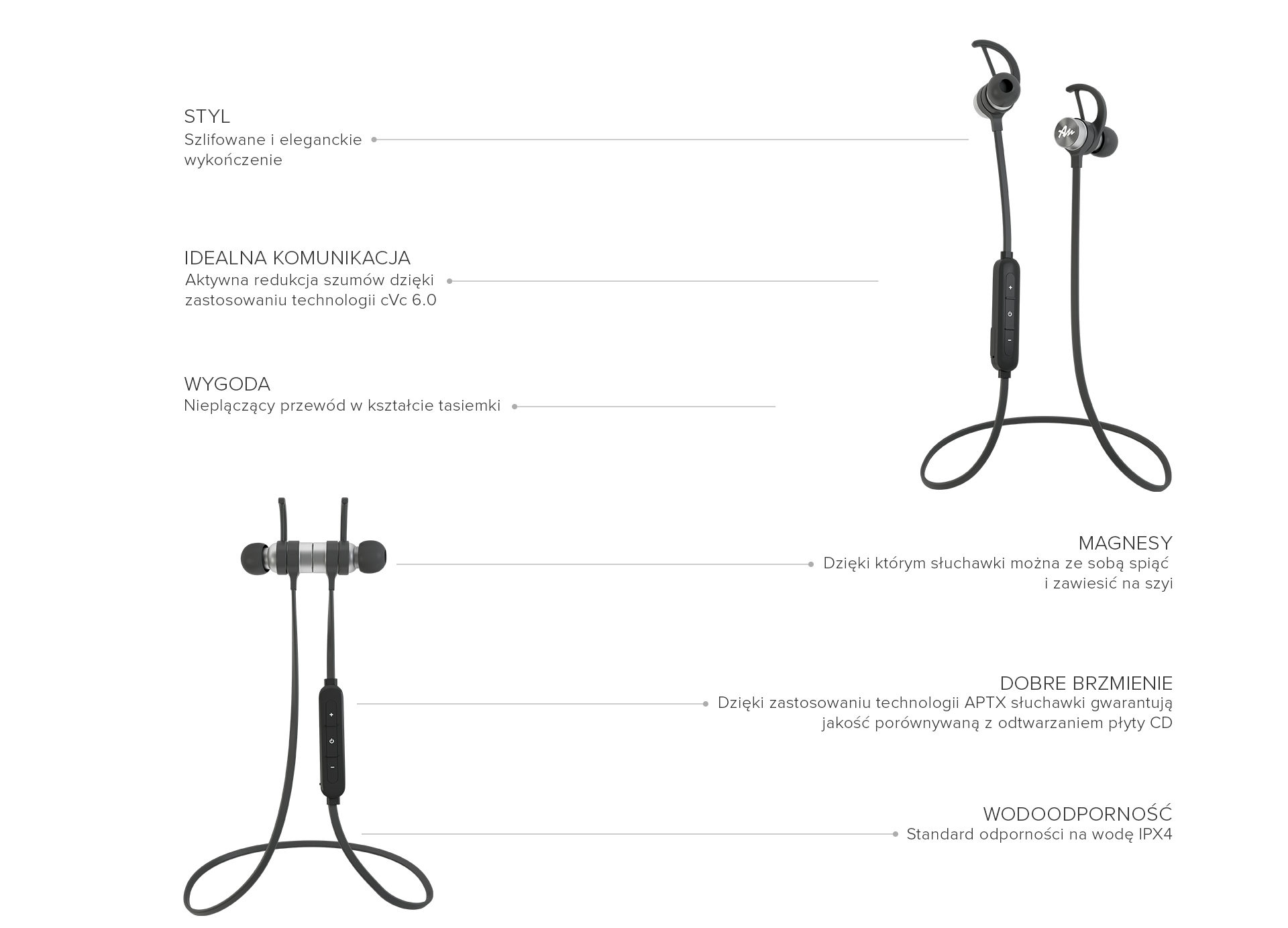 DŁUGA AKTYWNOŚĆ NIEZALEŻNIE OD POGODY

Adrenaline 2.0 Wyposażyliśmy w wydajną baterię o pojemności 90 mAh, która gwarantuje granie przez 5 godzin na maksymalnej głośności, gdy wolimy subtelniejsze towarzystwo muzyki, energii wystarczy nam na dłużej. Można, więc ruszać w nich na niejeden maraton!

Deszcz, śnieg, duszna sala gimnastyczna. Muzyka to najlepsze lekarstwo na zniechęcenie. Audictus Adrenaline 2.0 Posiadają wodoodporność w standardzie IPX4, dzięki czemu można w nich ćwiczyć niezależnie od panujących wokół warunków. Ponadto wkładki douszne z pianki Memory Foam, gwarantują naturalne dopasowanie się do wielkości kształtu wnętrza Twoich uszu.
IDEALNA KOMUNIKACJA Z CVC 6.0

Słuchanie ulubionych motywujących utworów to nie wszystko. Adrenaline 2.0 Idealnie sprawdzą się też w trakcie długich rozmów, niezależnie od warunków otoczenia. Technologia cVc 6.0, Czyli aktywna redukcja szumu, pozwala na prowadzenie konwersacji nawet w hałaśliwym miejscu. Funkcja MultiPoint umożliwia Ci sparowanie ze słuchawkami dwóch urządzeń jednocześnie. Słuchawki są również kompatybilne zarówno z iOS jak i z Android.
MOBILNOŚĆ

Często zmieniasz miejsce pobytu? Podróże, zawody sportowe nie są Ci obce? To świetnie! Słuchawki Adrenaline 2.0 Dzięki swojej budowie ważą jedynie 17 gramów przy bardzo trwałej konstrukcji z metalowym wykończeniem. Jeśli z nich aktualne nie korzystasz, słuchawki będą bezpieczne w specjalnym twardym i kompaktowym futerale dołączonym do zestawu.

Headphones type
In-canal
Specialized
For Athletes

Universal
Audio system
Stereo
Volume control
Remote cotrol
Sound pressure level
98 dB
Headphones frequency response
20 - 20000 Hz
Microphone
Yes
Microphone sensitivity
-38 dB
Wire braid
Ribbon
Included Accessories
Memory foam tips

MicroUSB cable

Silicone hooks

Silicone tips (S/M/L)
Cable length
60 cm
Communication
Wireless
Coverage
10 m
Colour
Black

Silver
Weight
16 g
Driver unit material
Dynamic
Diameter of driver
8 mm
Impedance
16 Ohm