Added since: 2019-05-15 Print
PC CASE GENESIS IRID 400 RGB MIDI TOWER RGB WINDOW

Manufacturer:
Impakt code:
Z28820
Manufacturer code:
NPC-1429
EAN:

5901969420067

Warranty:
24 months
Unit measure:
PC.
Number of items in a package:
1
Extended warranty:
Not available
Product description
Features
Download
Hi-Res
Sale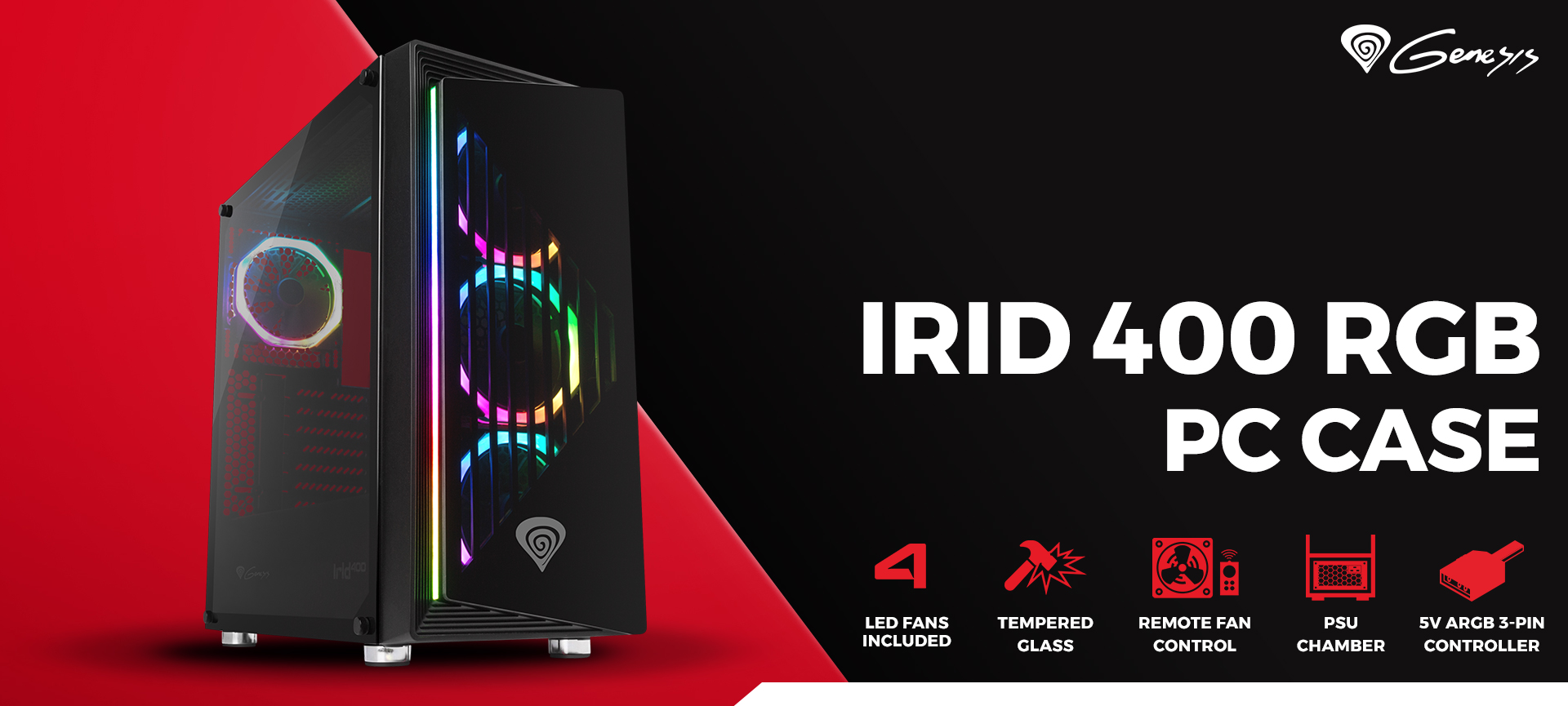 GENESIS IRID

400 RGB

PC case is very important! A proper one should be distinguished by its features, such as solid construction, spacious interior for high-end components and cable management, functionality, as well as good-looking design. Irid 400 RGB combines all those aspects successfully.
Case itself is equipped with ARGB backlight – 4 fans with PWM function and LED strip on the front panel – controlled via remote using Wi-Fi. Moreover, when we add the list front and side panel made of tempered glass, stylish black colored-construction, toolless storage drive installation and well-thought-out interior, you get a complete product that will meet the demanding users' expectations.
BACKLIGHT

UNDER CONTROL

Irid 400 RGB is equipped with 4 high-grade fans with ARGB backlight, which are controlled by the fan HUB placed inside of the case. With it, users gain the control over fan backlight and speed. Communication is carried out via remote or buttons placed on the hub's housing. Remote transmits signals wirelessly – it supports longer range and has wider functionality when compared to its infrared equivalent.
Fan hub is compatible with motherboards equipped with 3-pin 5V ARGB connectors – Asus, Asrock, Gigabyte and MSI. Additionally, controller has PWM connector, which, after being connected to motherboard, allows for BIOS-level control over fan speed, auto-adjusting it to the temperature of a given PC component.
DON'T FORGET

ABOUT AIRFLOW!

A good PC case should provide sufficient airflow, because nobody wants their high-end components running too hot. When it comes to closed front panel constructions, achieving
an appropriate level of cooling might pose a challenge. Irid 400 RGB boasts both enough airflow and an aesthetically pleasant experience, as a result of having just the right amount of space left, between the front glass panel and the fans. Air is pulled in from the side-panel through dust-filter. If necessary, case can be equipped with additional 12 or 14cm fans. On top of that, there is also room for water-cooling – on the front of the case, up to 280mm.
SOLID CONSTRUCTION

AND SAFETY

Use of high quality, fully painted SPCC steel with 0,7mm thickness translates into stable and durable construction, which will serve you many years. Motherboard tray and PSU shroud have conveniently-placed cable holes and safe-edges to prevent cables from taking any damage. Behind motherboard tray is cable management space– from 10mm in the back,
up to 28mm in the front – this makes sorting out the unruly cabling effortless.
SMALL DETAILS MAKE A

BIG DIFFERENCE

Spacious interior and modern construction make the assembly of internal components, within PC case, convenient and fast. HDD drives can be mounted inside toolless using specially designed frames. Entire HDD cage can be removed and mounted in one of
2 designated spots – depending on the requirements of hardware configuration.
Extension slot brackets are screw-secured which allows various configuration changes, without leaving any empty "holes" in the back panel. Interior is efficiently protected from dust using 3 dust-filters installed at the bottom, top and front – which is very important for
a PC case displaying its interior, so well.

| | |
| --- | --- |
| Type of casing | Midi Tower |
| Motherboard form factor | ATX, Micro-ATX, Mini-ITX |
| Power supply | ATX |
| Power supply mounting | Bottom |
| The maximum length of the PSU | 190 mm |
| Maximum CPU cooling height | 180 mm |
| Maximum length of the GPU graphics card | 395 mm |
| Liquid Cooling Support | Yes |
| Number of installed fans | 4 |
| Installed fans | 4x 120mm ARGB |
| Max number of fans | 6 |
| Support for installation of fans - top | 2x 120mm, 2x 140mm |
| Support for installation of fans - front | 2x 140mm, 3x 120mm |
| Support for installation of fans - rear | 1x 120mm, 1x 140mm |
| Support for installation of liquid cooling - top | 240mm |
| Support for installation of liquid cooling - front | 240mm, 280mm |
| Support for installation of liquid cooling - rear | 120mm |
| Illumination | Yes |
| Illumination color | ARGB |
| Backlight parts | Fan |
| Number of expansion slots | 7 |
| Maximum number of 2.5" bays | 4 |
| Maximum number of 3.5" bays | 2 |
| PSU shroud | Yes |
| Front panel connectors | 2xUSB 2.0, 2x Jack, 2xUSB 3.0 |
| Construction | Versatile SSD mounting options |
| Material | ABS, Glass, Steel |
| Type of side panel | Tempered glass |
| Type of front panel | Tempered glass |
| Protections | Anti-dust filters |
| Included Accessories | Remote control, User Manual, Set of assembly elements, RGB Controller |
| Power supply included | No |
| Colour | Black |
| Length | 450 mm |
| Width | 216 mm |
| Height | 469 mm |
| Weight | 8.6 kg |
| | |
| --- | --- |
| Manual (multilanguage) (US, PL, DE, ES, CZ, SK, RO, HU, BG, RU) | Download file |
| Product card PL | Download file |
| Manual (multilanguage) (US, PL, CZ, SK, RU) | Download file |
| Product card US | Download file |
| Declaration of Conformity (multilanguage) (PL, US) | Download file |