Added since: 2019-11-08 Print
MULTI PORT NATEC USB-C PD, USB 3.0, HDMI 4K

Manufacturer:
Impakt code:
Z29817
Manufacturer code:
NMP-1607
EAN:

5901969425789

Warranty:
24 months
Unit measure:
PC.
Number of items in a package:
100
Extended warranty:
Not available
Product description
Features
Download
Hi-Res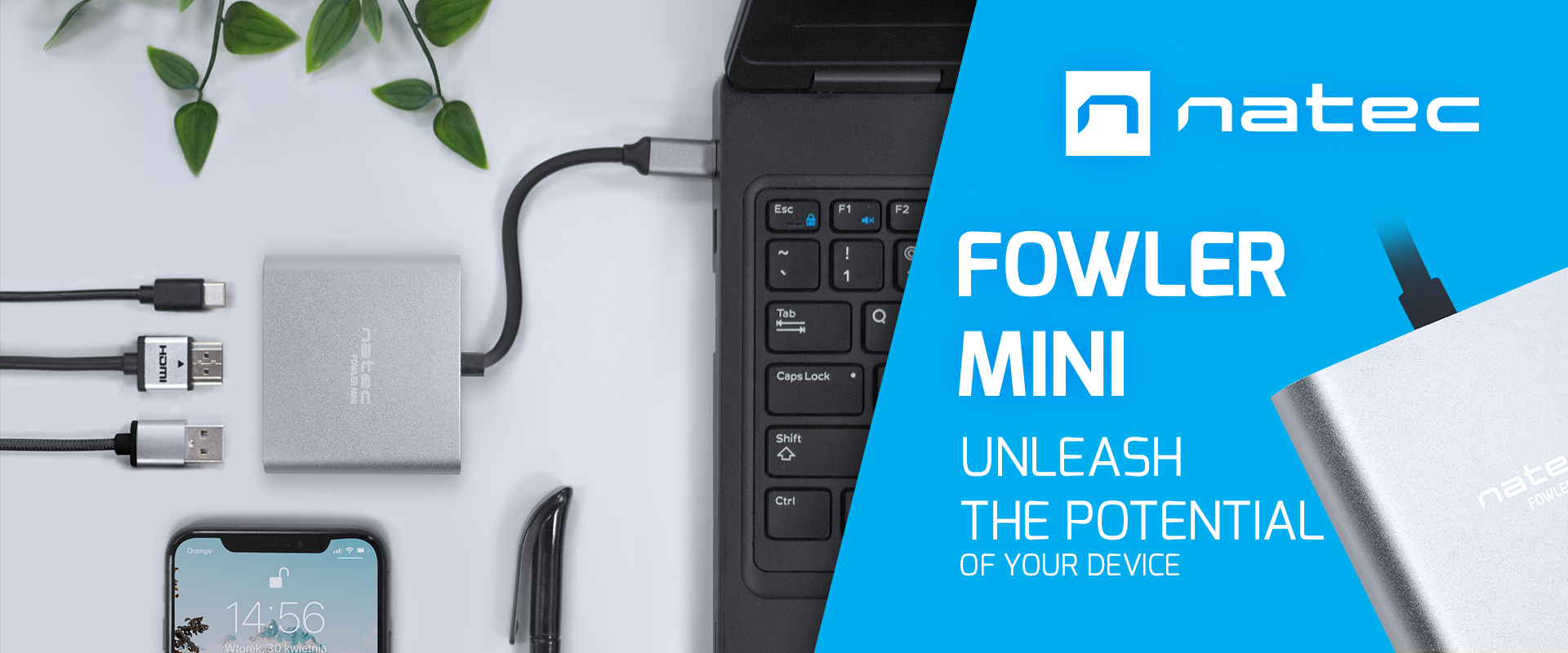 Expand your
possibilities.
One USB-C port transformed into 3 most useful ports for you. Multiport Fowler MINI is an irreplaceable tool for modern laptops, tablets and smartphones with USB-C port. The adapter expands the capabilities of your devices and allow you to enjoy limitless possibilities.
The highest video quality with

HDMI 4K.

Natec Fowler MINI features a modern HDMI port that supports high-definition video transmission including 4K with 30 Hz frequency. Multiport will provide you with the best quality of multimedia on the big screen, regardless of what device you use.
Keep your

charging port.

Thanks to built-in USB-C port you can unlimitedly charge your laptop with a power up to 60 W, while still using other possibilities of multiport. Now you can enjoy the full functionality of your device for hours, knowing that your charging port remains unoccupied.
Transform your phone into
computer.
Thanks to Natec Fowler adapter, you will be able to release a full potential of your smartphone. In the case of devices supporting DEX, Huawei EMUI Desktop or PC Mode, you can connect your mouse and keyboard, and use the smartphone as the standard PC.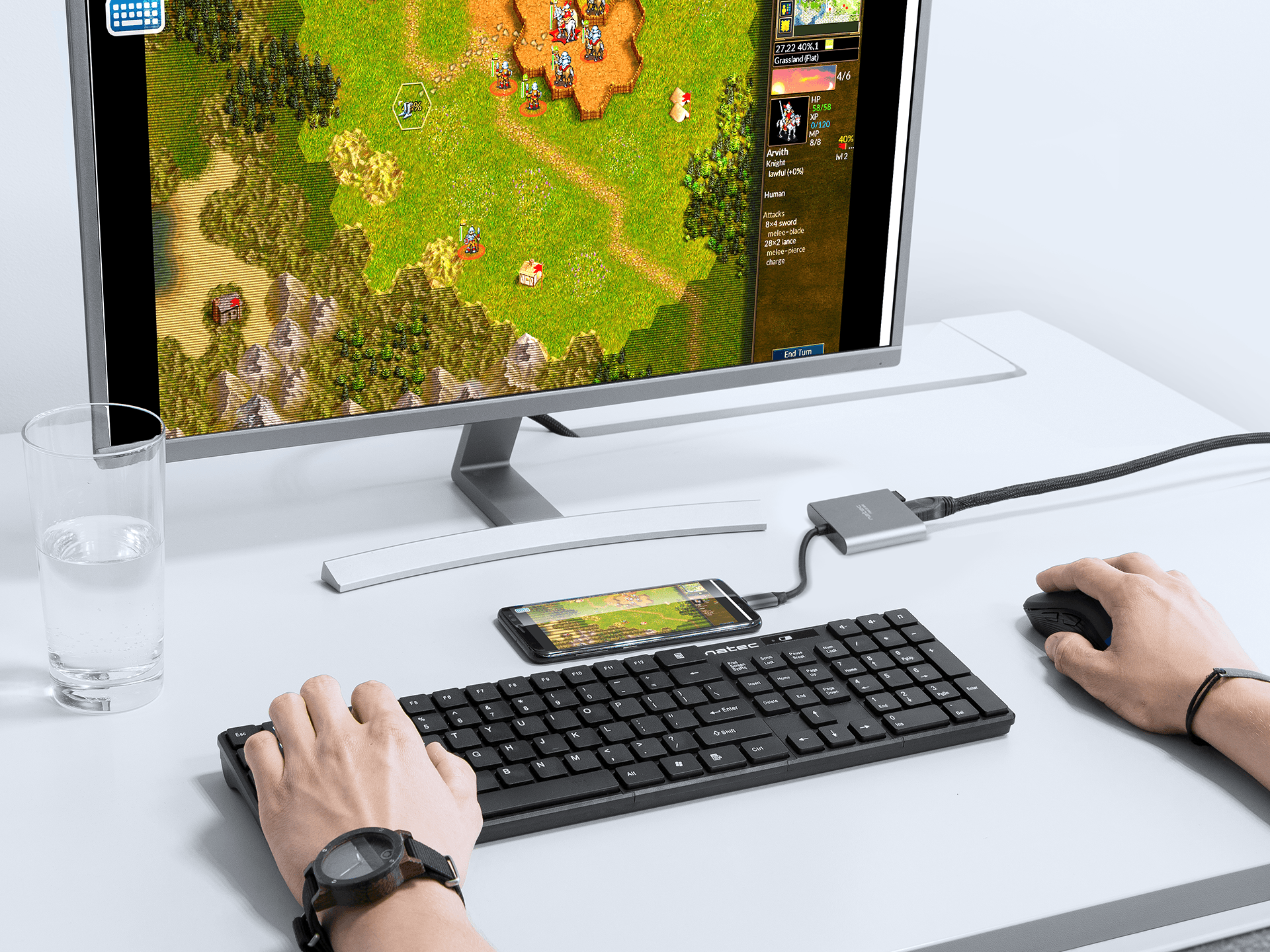 Functional

USB 3.0 port.

Natec Fowler MINI gives you a full functionality and freedom to connect your device to everything you need. Thanks to fast USB 3.0 port, you can connect your memory stick, mouse, keyboard and any other peripherals using the classic and still popular USB plug.
Exclusive
design.
Your newest device equipped with USB-C port certainly looks neat and smart. Natec Fowler MINI does not lag behind in this matter. Created to expand functionality, designed to satisfy your eyes. The spectacular combination of aluminum and black will become your showcase in public places.
Top-class

materials.

In addition to the durable aluminum case, all the inside elements, ports and plug is made of the highest-quality materials that leave no doubts. Great workmanship of Natec Fowler MINI ensures the years of effective use.
Compatible with...

everything.

Natec Fowler MINI is maximally universal and allows you to enjoy its possibilities with every device equipped with an USB-C port. Built to work with hundreds of devices such as laptops, ultrabooks, smartphones or tablets.
PLUG &
PLAY
We have simplified the use of the Natec Fowler multiport to the maximum. You don't need any drivers to operate it. Take it out of the box, connect the accessory to the device and immediately enjoy all the functions offered by the multiport.

| | |
| --- | --- |
| Max video resolution | 3840 x 2160 px |
| Number of USB type-A ports | 1 |
| USB Version | 3.0 |
| Connectors | HDMI, USB Type-A, USB Type-C |
| Data transfer rate | 0 - 5000 |
| Cable length | 11 cm |
| Supported video resolution | 2160p, 1080p, 4K UHD, 720p |
| Active Hub | No |
| Power supply | USB-C |
| Supported Operating Systems | Android 4.2.2, MAC, Windows 7, Windows 7 64bit, Windows 8, Windows 8 64bit, Windows Vista, Windows Vista 64bit, Windows XP, Windows 10, Windows 10 64bit |
| Colour | Gray |