Added since: 2022-04-11 Print
GAMING KEYBOARD COOLER MASTER SK620 US LAYOUT RGB BACKLIGHT WHITE LOW PROFILE MECHANICAL SWITCH RED

Manufacturer:
Impakt code:
Z32473
Manufacturer code:
SK-620-SKTR1-US
EAN:

4719512109038

Warranty:
24 months
Unit measure:
PC.
Number of items in a package:
10
Extended warranty:
Not available
Product description
Features
Hi-Res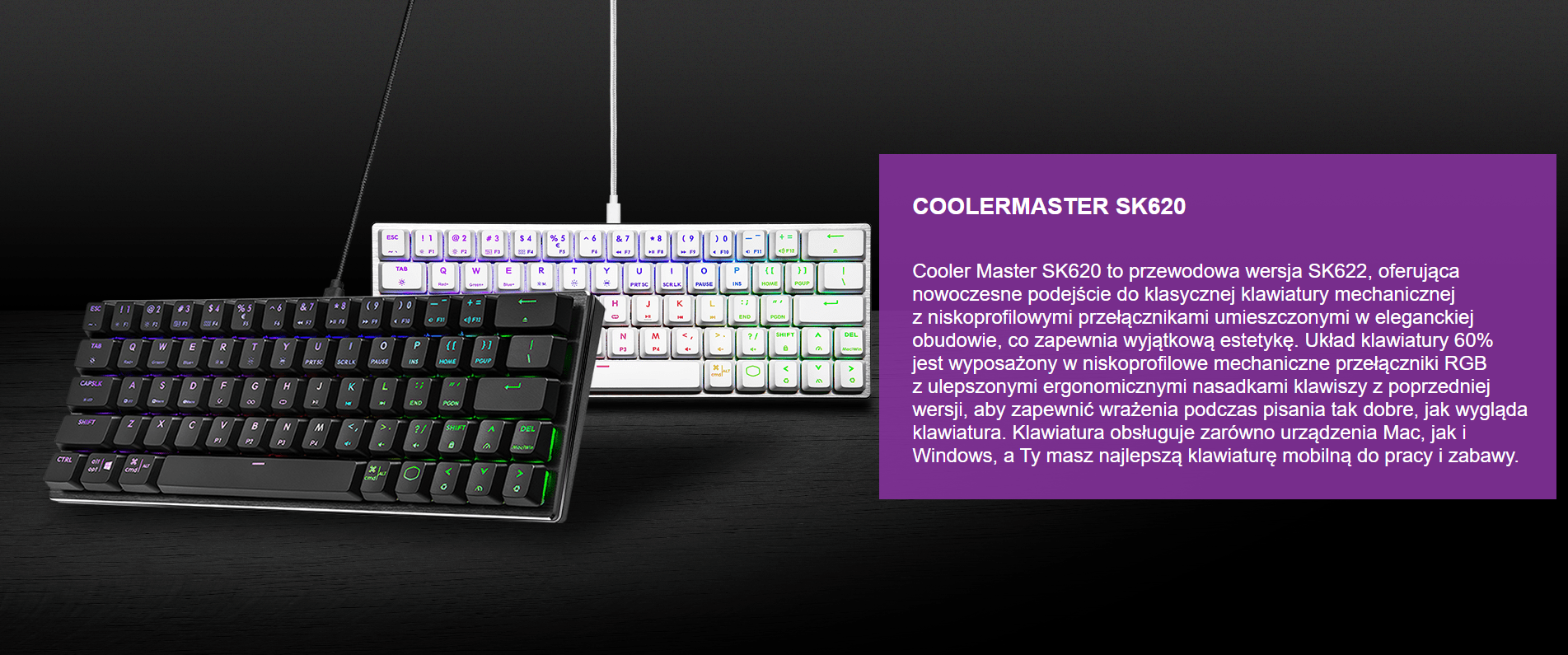 NOWOCZESNY NISKI PROFIL

SK620 wyznacza nowe, odważne granice dla klawiatur mechanicznych z wersją 2.0 naszych klawiatur z serii SK600. Zmniejszony dystans i punkt aktywacji powodują, że klawiatura ma smuklejszy profil, co zapewnia bardziej nowoczesną, elegancką estetykę. Połącz to z formatem 60%, a otrzymasz wydajną mechaniczną klawiaturę w obudowie, którą prawie zmieścisz w kieszeni. Prawie.

NOWE, ULEPSZONE NAKŁADKI NA KLAWISZE

Bierzemy sobie do serca Wasze opinie. SK620 posiada nowe, ulepszone nasadki klawiszy i regulowane nóżki, aby zwiększyć trwałość i, co najważniejsze, bardziej intuicyjne pisanie. Uzyskaj takie same wrażenia dotykowe, jak na wytrzymałej klawiaturze w smuklejszej obudowie. To właśnie nazywamy uaktualnieniem.

TAKA SAMA, ALE INNA

SK620 posiada klasyczny, smukły, minimalistyczny wygląd najpopularniejszej klawiatury typu chiclet z dodatkiem charakterystycznej mieszanki stylu i funkcjonalności Cooler Master. Obejmuje to szczotkowaną aluminiową płytę górną zapewniającą trwałość i nowoczesny wygląd, a wyprofilowana konstrukcja klawiszy zapewnia charakterystyczne piękno z łatwym dostęp do czyszczenia. Rezultatem jest klawiatura, która wygląda znajomo, ale nie przypomina żadnej innej klawiatury, której używałeś wcześniej.
BEZPROBLEMOWA WSPARCIE DLA WIELU PLATFORM

SK620 jest kompatybilny z praktycznie każdym nowoczesnym systemem operacyjnym i urządzeniem, zapewniając szybką łączność zarówno z urządzeniami mobilnymi, jak i laptopami – a także z systemami Mac i Windows OS.

PODŚWIETLENIE RGB

RGB nigdy nie było bardziej eleganckie niż w SK620, z podświetleniem każdego klawisza, które zostało zaimplementowane z myślą o niedocenianej funkcjonalności. Dodatkowo na obudowie został umieszczony pas podświetlający.

BRAK WYMAGANEGO OPROGRAMOWANIA

Kiedy wszystko układa się po Twojej myśli, ostatnią rzeczą, którą chciałbyś zrobić jest wyjście z gry, w celu dostosowania ustawień klawiatury. SK620 wykorzystuje innowacyjny system On-the-Fly, dzięki czemu zmienisz preferencje, bez konieczności pobierania oprogramowania lub opuszczania gry.
NOWA DEFINICJA PRECYZJI

SK620 wykorzystuje technologię N-key rollover, która zapewnia najbardziej wydajną i dokładną technologię anti-ghosting. Funkcja N-key rollover zapewnia prawidłowe wykrywanie każdego naciśnięcia klawisza, nawet w najbardziej gorących, najbardziej zaciętych momentach lub w chaotycznych sytuacjach związanych z kodowaniem.

SZYBKA I BEZPROBLEMOWA WYDAJNOŚĆ

Pożegnaj się z rezygnacją z wściekłości z powodu kiepskiego sprzętu. SK620 jest wyposażony w 32-bitowy procesor ARM Cortex, zapewniający stałą precyzję i wydajność. Natychmiast rejestruje naciśnięcia klawiszy. Zapisuj i wykonuj polecenia i makra w mgnieniu oka. Dzięki systemowi On-the-fly uzyskaj natychmiastową przewagę nad przeciwnikiem i pokonuj go za każdym razem.
| | |
| --- | --- |
| Specialized | For Gamers |
| Layout | US |
| Key mechanism | Mechanical |
| Keyboard type | Full-size |
| Illumination | Yes |
| Illumination color | RGB |
| Number of backlight modes | 17 |
| Communication | Wired |
| Cable length | 180 cm |
| Number of keys | 64 |
| Multimedia keys | Yes |
| Sampling frequency | 1 000 Hz |
| Supported Operating Systems | MAC, Windows 10, Windows 7, Windows 8 |
| Profile | Low |
| Material | Aluminium, Plastic |
| Buint-in memory | Yes |
| Functions | Macros Available, Profiles Available |
| Connectors | USB Type-A |
| Colour | White |
| Included Accessories | User guide |
| Length | 293 mm |
| Width | 103 mm |
| Height | 30.28 mm |
| Weight | 377 g |