Created: Oct 28, 2020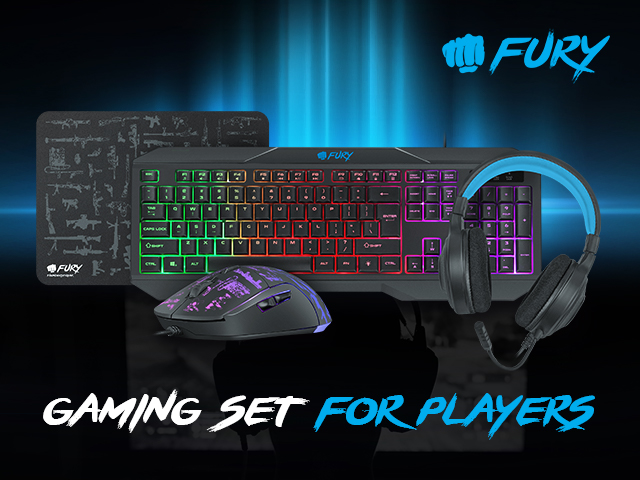 Fury Thunderstreak 3.0 to zestaw, który zachwyca funkcjonalnością i zapewnia rozgrywkę pełną niezapomnianych wrażeń. Wysokiej jakości komponenty doskonale uzupełnią każde stanowisko początkującego, jak i zaawansowanego gracza. Połączenie klawiatury, myszy, słuchawek oraz podkładki tworzy kompletny zestaw gamingowy, który sprawdzi się nawet podczas najcięższych batalii.
PROGRAMOWALNA MYSZ W ZESTAWIE
Gryzoń znajdujący się w zestawie umożliwia dopasowanie wielu działań do własnych potrzeb. Unikalne oprogramowanie daje możliwość e
dycji makr i przypisanie licznych funkcji do każdego z pięciu programowalnych przycisków. Dzięki temu zawsze będziesz gotów na zastosowanie zabójczego combo!
JAKOŚĆ IDĄCA W PARZE Z ILOŚCIĄ
Klawiatura membranowa o niskim profilu, słuchawki zapewniające krystalicznie czysty dźwięk stereo, gryzoń z unikalnym oprogramowaniem i precyzyjnym sensorem czy kompaktowa podkładka? Od teraz nie musisz wybierać! Z zestawem Fury Thunderstreak 3.0 możesz mieć to wszystko, zapewniając przy tym swojemu stanowisku niepowtarzalny wygląd!
Poznaj każdy element Thunderstreak 3.0:
- klawiatura z podświetleniem i funkcją anti-ghosting dla 19 klawiszy,
- miękkie słuchawki stereo z czułym mikrofonem,
- mysz optyczna o rozdzielczości do 4000 DPI z oprogramowaniem,
- podkładka pokryta warstwą tekstylną z unikalną grafiką.
Wykorzystaj potencjał Fury Thunderstreak 3.0 i stań się niepokonany na wirtualnym polu bitwy!
Dowiedz się więcej: FURY THUNDERSTREAK 3.0
ZŁÓŻ ZAMÓWIENIE U SWOJEGO OPIEKUNA HANDLOWEGO LUB W NASZYM SYSTEMIE INTERNETOWYM e-Trade