Created: Apr 16, 2020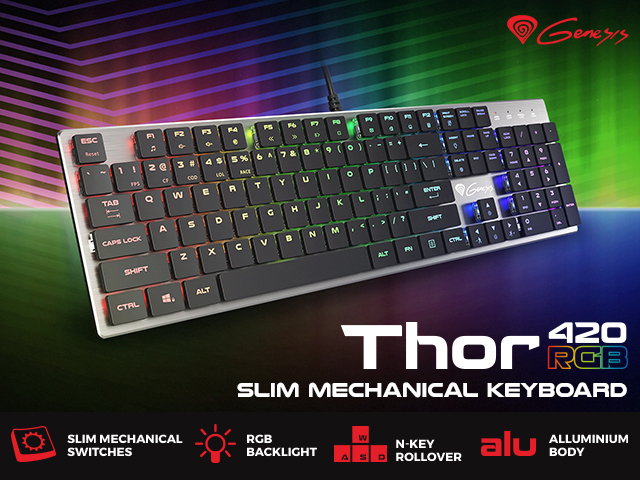 After many months of waiting for a new keyboard from Genesis, we are introducing something we have been working on for a long time, refining the smallest details. Something that will delight demanding players, will confuse the competition and properly fill your product portfolio.
We decided to postpone the premiere of Thor 420 in time. We planned to give it back only when it is in the best possible form ready to present itself to demanding players whose expectations - it will be ready to meet 100 percent.
Thor 420 is a keyboard that supports the performance of your customers.
We dreamed of giving the users of our new keyboard an unfair advantage over opponents and ... we managed to do it. We have maximally reduced the distance needed to activate the click and combined it with the ultra-low pressure force, which is needed for this - only 45g. We decided that this is not enough for us, so we also reduced the response time to a minimum, and the whole is wrapped in low-profile and modern blue mechanical switches.
Created to delight with design.
Designed by specialists so that every centimeter of it captivates the eye. We know perfectly well that the keyboard can turn an ordinary stand into a work of art, to which players sit with pride and excitement. Brushed, shiny aluminum. Advanced backlight and low profile design. These features make Thor 420 stand out from the competition by being a product that meets the needs of the market.
Fly over the race with Thor 420
We are glad that we can finally give you a complete keyboard. Technologically advanced. Beautiful and tailored to the expectations of your customers.
We proudly present to the world the low profile Thor 420 keyboard.