Added since: 2021-07-20 Print
PC CASE GENESIS IRID 505 ARGB WHITE MIDI TOWER WINDOW

Manufacturer:
Impakt code:
Z31926
Manufacturer code:
NPC-1872
EAN:

5901969432831

Warranty:
24 months
Unit measure:
PC.
Number of items in a package:
1
Extended warranty:
Not available
Product description
Features
Download
Hi-Res
Replacement
Accessiories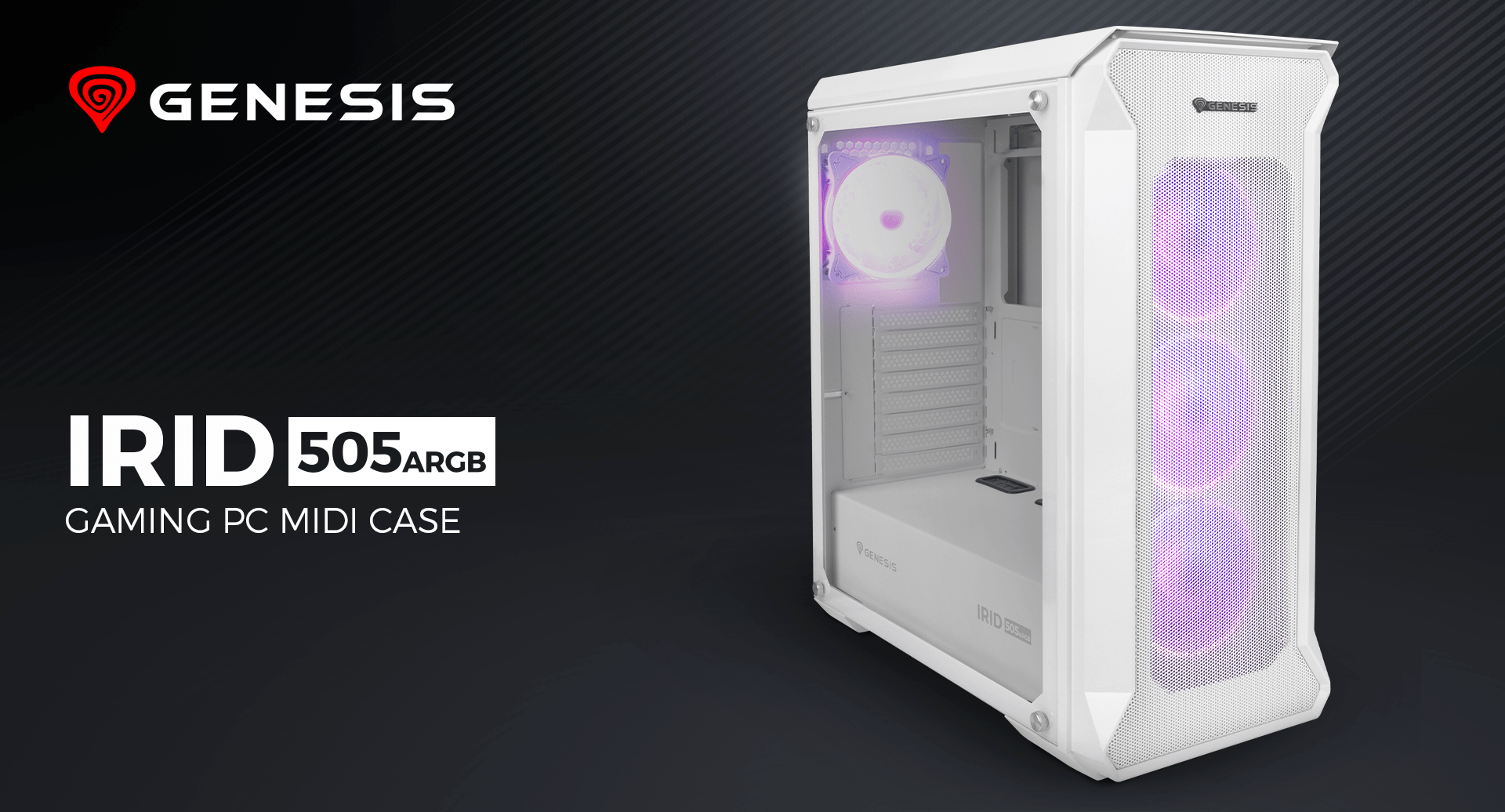 Meet Irid 505 ARGB! We'd like to present you a medium-sized midi tower PC case with functionality and eye-stunning design that will satisfy every user. Personalize your ARGB-backlit chassis, choose the right colors and enjoy a winner-worthy atmosphere! In addition, the housing is made of the highest quality materials that will last for many years.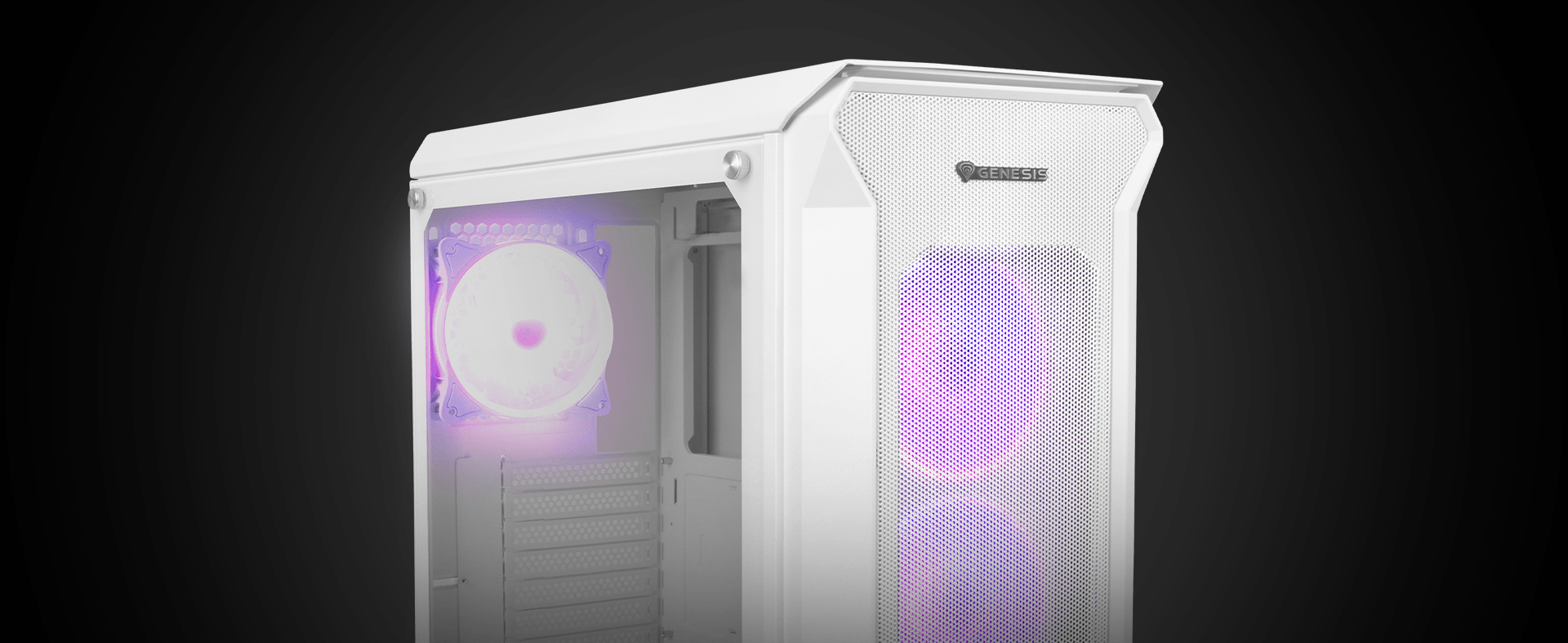 ORIGINAL DESIGN WITH ARGB
Irid 505 ARGB has a perforated front, and the side panel is made of transparent tempered glass, which allows you to keep an eye on the working components. The phenomenal whiteness of the structure combined with the impressive ARGB backlight will make the housing the focal point of your stand and give it a unique character!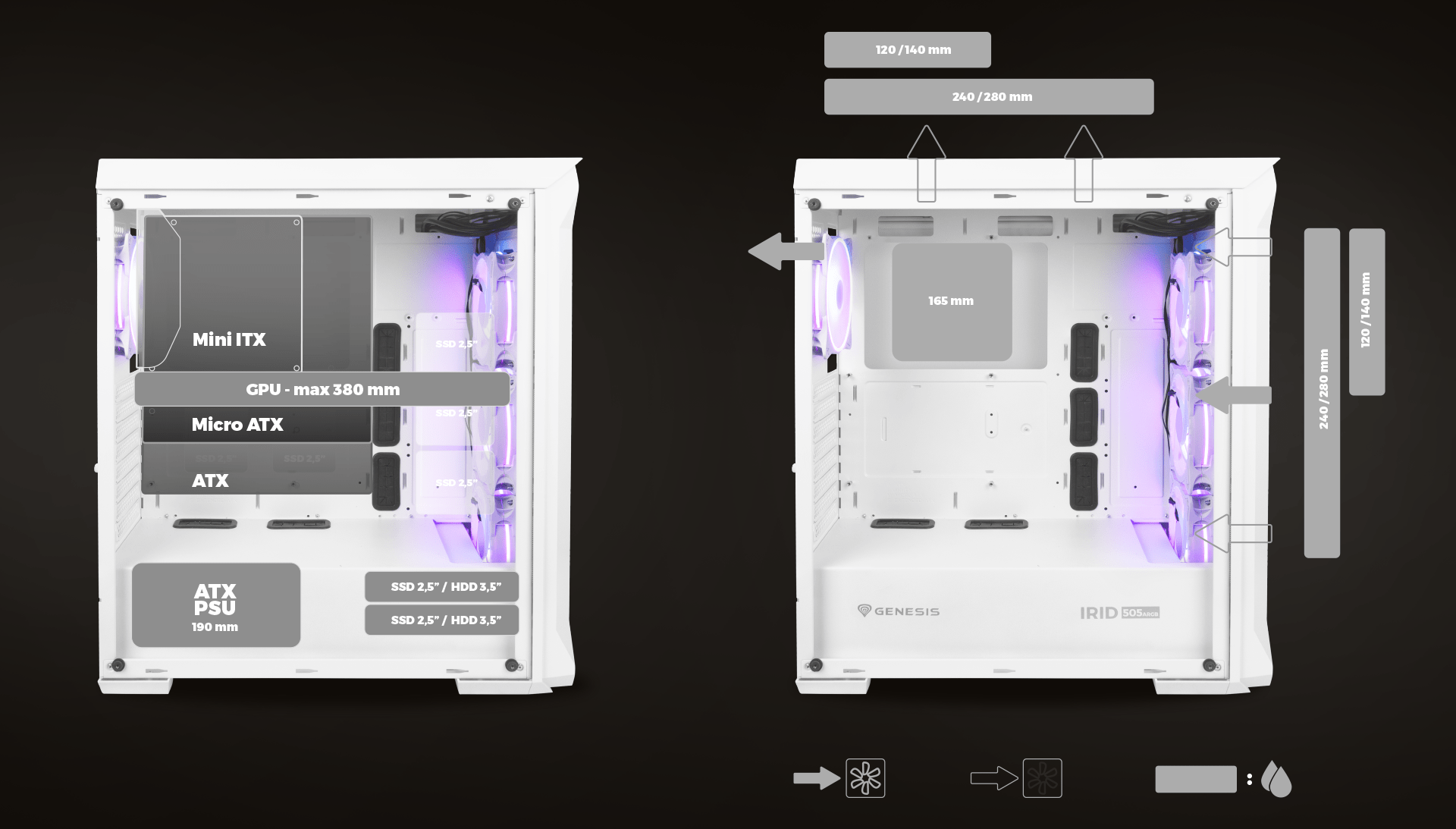 SUPPORT FOR FIVE SSDs
To give you complete freedom to manage your data with fast access, the Irid 505 ARGB gives you the ability to attach up to five SSDs. In addition to this, there is space to mount two HDDs or another two SSDs in their place.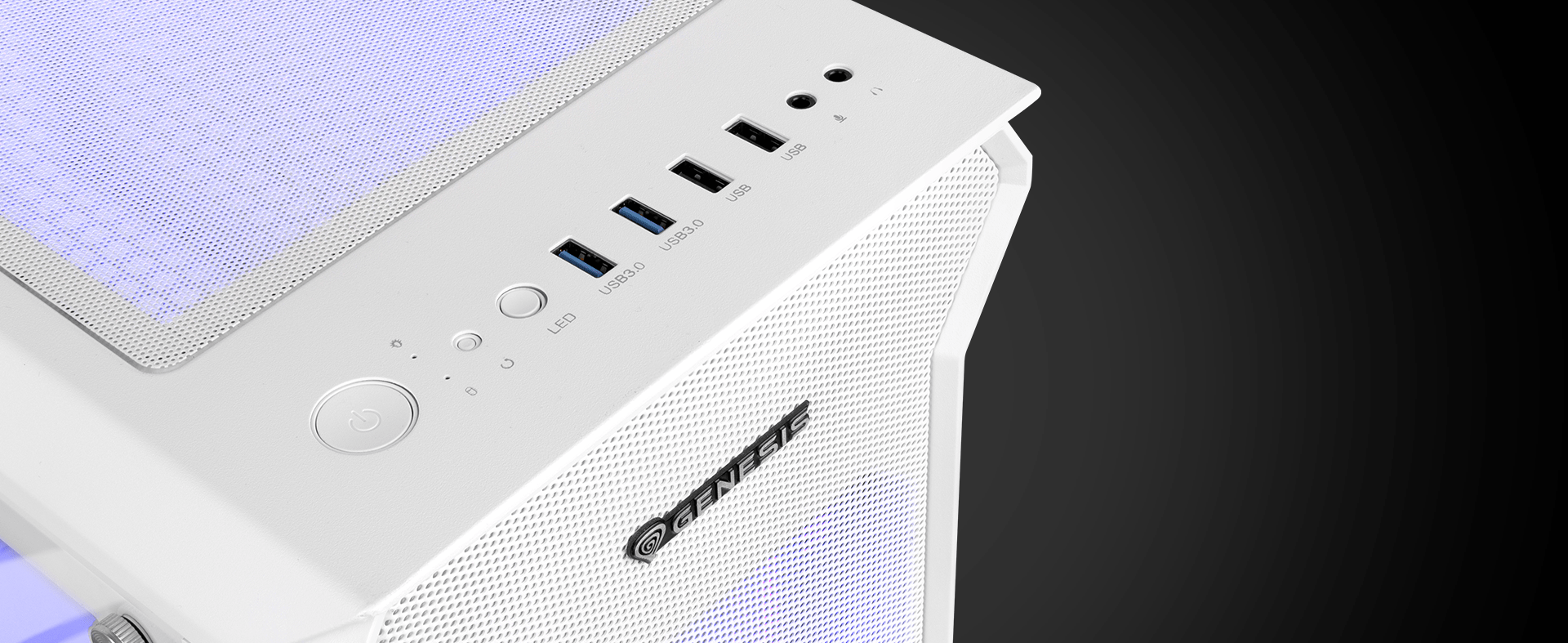 FUNCTIONAL PANEL WITH USB 3.0
For maximum convenience and intuitive operation, the front of the case has been equipped with two USB 3.0 connectors, two USB 2.0 connectors and two HD Audio Jacks.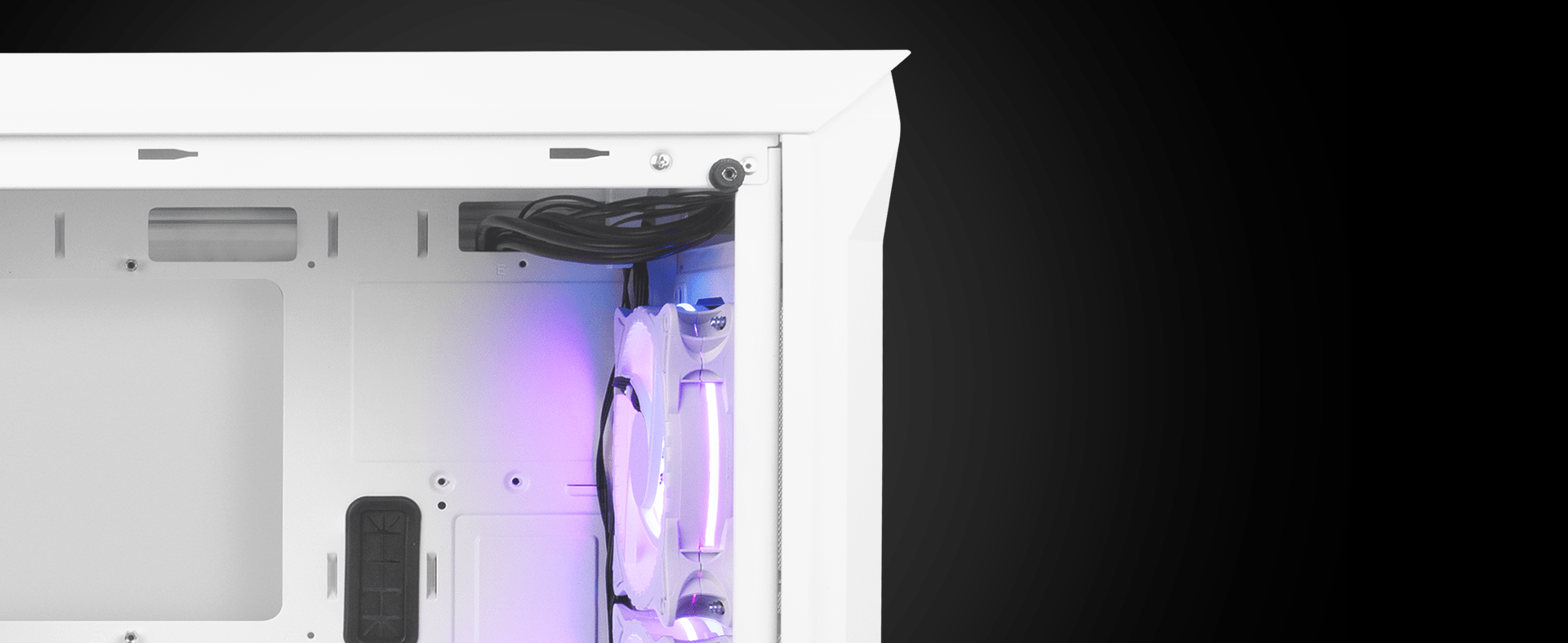 PERFECT ORGANIZATION
The Irid 505 ARGB housing enables perfect cabling organization. Numerous cable entries equipped with rubber covers and a large amount of space behind the motherboard tray make it quick and easy to arrange the cables, letting you create an aesthetically pleasing appearance of the whole package.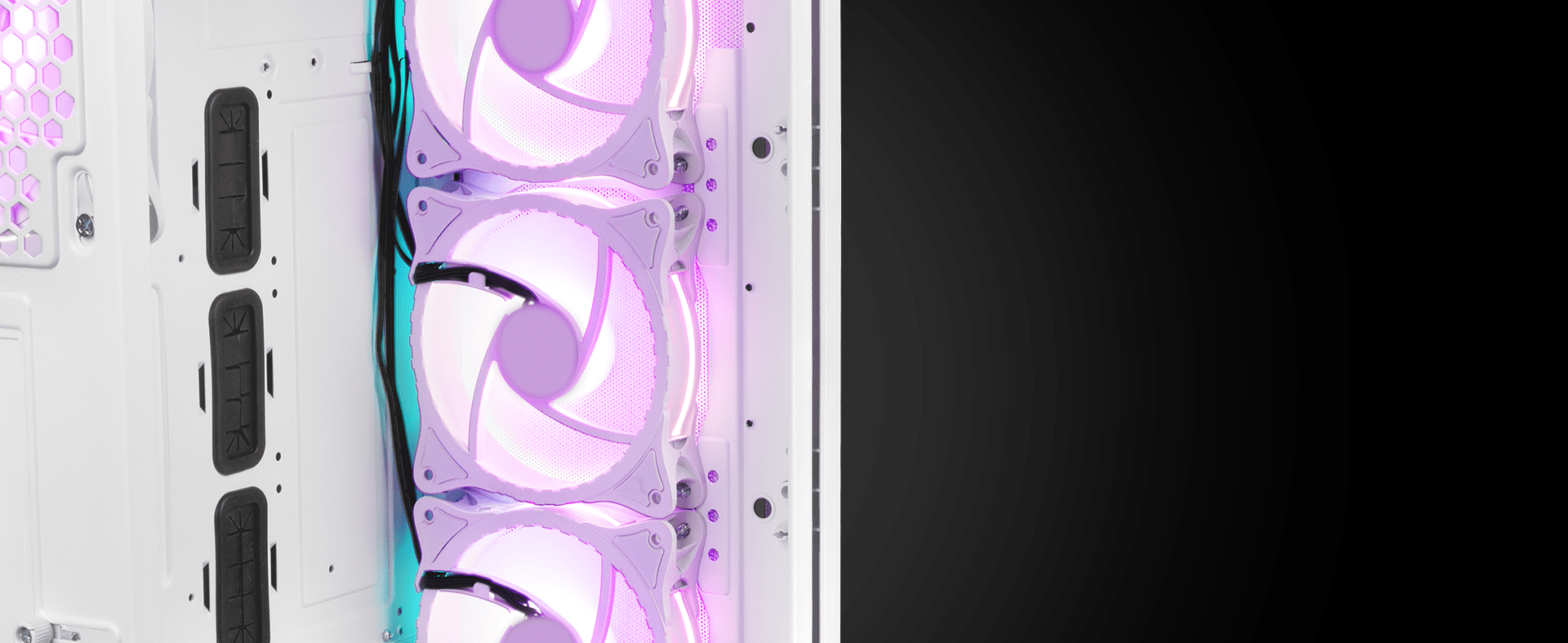 FOUR FANS INCLUDED
The case is equipped with four robust and very quiet 120 mm ARGB fans. In addition, the Irid 505 ARGB allows to mount up to two additional fans, including 140 mm at the front and top. Thanks to this, your case can have up to six fans in it!
THREE DUST FILTERS

The sterile conditions inside the housing are ensured by three dust filters, which are placed on the top, bottom, and front. As a result, you don't have to worry about too much dust around the components anymore.
AESTHETIC EXPANSION SLOTS

Expansion sockets have screw-on caps and can therefore be re-installed. Open only what is needed and cover the sockets that are empty. In Irid 505 ARGB everything is always supposed to look neat and delightful.
MOUNTING "SLOT IN" DISKS

The use of simple "slot-in" technology allows you to organize HDDs and SSDs without having to reuse tools.

| | |
| --- | --- |
| Type of casing | Midi Tower |
| Motherboard form factor | Mini-ITX, Micro-ATX, ATX |
| Power supply | ATX |
| Power supply mounting | Bottom |
| The maximum length of the PSU | 190 mm |
| Maximum CPU cooling height | 165 mm |
| Maximum length of the GPU graphics card | 380 mm |
| Liquid Cooling Support | Yes |
| Number of installed fans | 4 |
| Installed fans | 4x 120mm ARGB |
| Max number of fans | 6 |
| Support for installation of fans - top | 2x 140mm, 2x 120mm |
| Support for installation of fans - front | 3x 140mm, 3x 120mm |
| Support for installation of fans - rear | 1x 120mm |
| Support for installation of liquid cooling - top | 280mm, 240mm |
| Support for installation of liquid cooling - front | 280mm, 240mm, 120mm |
| Support for installation of liquid cooling - rear | 120mm |
| Rotational speed | 1200 RPM |
| Fan lifetime | 40000 h |
| Airflow | 39,6 CFM |
| Static pressure | 0.97 InchH2O |
| Illumination | Yes |
| Illumination color | ARGB |
| Backlight parts | Fan |
| Number of backlight modes | 1 |
| RGB control possible by motherboard | Yes |
| Number of expansion slots | 8 |
| Maximum number of 2.5" bays | 7 |
| Maximum number of 3.5" bays | 2 |
| PSU shroud | Yes |
| I/O panel | USB Type-A 3.0 x2, USB Type-A 2.0 x2, Mini Jack x2 |
| Construction | Removable front panel |
| Noise level | 25.3 dB |
| Material | Tempered steel, Steel, ABS |
| Type of side panel | Tempered glass |
| Type of front panel | Mesh |
| Protections | Anti-dust filters |
| Included Accessories | Set of assembly elements, User Manual |
| Power supply included | No |
| Colour | White |
| Length | 447 mm |
| Width | 220 mm |
| Height | 510 mm |
| Weight | 6.95 kg |